Disclosure of Material Connection: This is a "sponsored post." The company who sponsored it compensated me via a cash payment, gift, or something else of value to write it. Regardless, I only recommend products or services I use personally and believe will be good for my readers. I am disclosing this in accordance with the Federal Trade Commission's 16 CFR, Part 255: "Guides Concerning the Use of Endorsements and Testimonials in Advertising."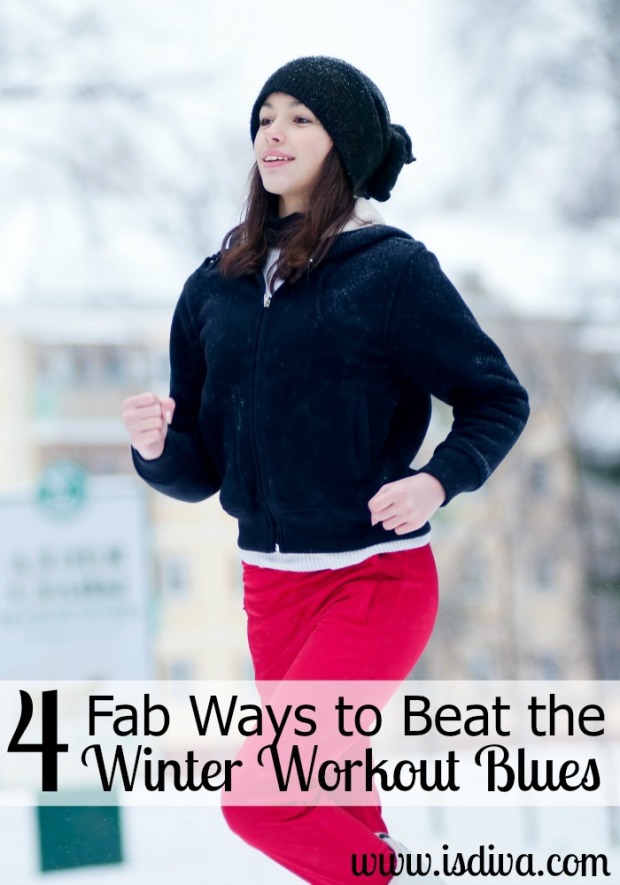 We all know that exercising is a great way to enhance your mood, reduce stress, prevent diseases, look your best, and teach your kids a healthy lifestyle. Downtown Chicago is a popular area in the summer for anyone looking to get plenty of exercise. From visiting Buckingham Fountain to inline skating along Navy Pier, it's a beautiful atmosphere.
However, when Old Man Winter sets in, the city starts coming to a halt. Not only does the sun set earlier, but have you experienced that Chicago Winter Hawk? With that said, I'd like to introduce four fab ways to beat the winter workout blues.
1. Get Warm Before Heading Out
It's time to get nice and warm. Before going out, hit about 10 minutes of cardio inside. This will help get the blood pumping and your mind set to workout.
2. Stay Hydrated

I particularly hate water! Don't ask me why, but I do. When I'm thirsty or dehydrated, I can guzzle down bottled water though. However, I find that making delicious fruit-infused flavor water is not only affordable, but a tasty way to get my intake.
Just keep a pitcher in your fridge filled with ice, water, and your favorite fruit blends. To make any beverage extra fresh, throw in a few slices of basil or mint (slicing them releases the flavor). Then, whenever you work out, fill your trusty water bottle, and you're ready for hydration anytime! Try these combinations:
Strawberry, lemon, and basil
Raspberry and orange
Lemon, orange, and cucumber
Strawberry and lime
Mango and lime
Lime and mint
3.Team Up with Your Girls
I find that I'm just not always motivated to workout. However, when I'm with my girlfriends, we can knock out any type of exercise without even noticing. From jogging, to kickboxing, to dancing the night away, there are all sorts of activities we can do that are fun and stimulating.
4. Look Good While You Perform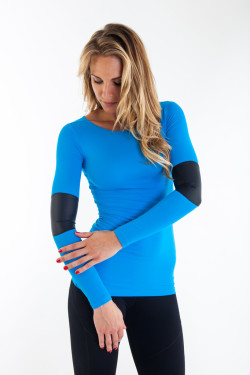 I also must admit that there have been a few times that some youngin' has run past me, and all eyes were on her!
Hey, I still like to be noticed!
So for those occasions when you're not alone working out, you can feel your best, by looking your best.
Nobody said workout clothing had to be dull sweat suits. You want to wear more fitting clothing than loose. The reason, so your body can retain the heat better! Then, top off with a nice hat, thin insulated gloves, and wind jacket.
A great outfit can be a fashionable long sleeve tunic with gloss sleeve inserts (something similar to club attired if you ask me). This shirt, for example, is long sleeves, perfect to keep you warm. It's a super soft fabric that feels great against your skin, which means it won't cling as you sweat. It hugs your hips and looks great with leggings or crop pants. Score!
These four tips are excellent for outdoor or indoor workout routines. So get dressed, get your friends, and be prepared to keep that fabulous shape all winter long.
If you're looking for excellent workout gear for cycling, fitness, swimming, or just life – check out what Alii Sport has to offer – where Fashion Meets Performance! I thought it was only fit for them to make it to ISDiva's Holiday Gift Guide as they were featured in Women's Running Mag!
~ Independent, Smart, Diva! Like this post? Please share with your friends!