Disclosure of Material Connection: Some of the links in the post above are "affiliate links." This means if you click on the link and purchase the item, I will receive an affiliate commission. Regardless, I only recommend products or services I use personally and believe will add value to my readers. I am disclosing this in accordance with the Federal Trade Commission's 16 CFR, Part 255: "Guides Concerning the Use of Endorsements and Testimonials in Advertising."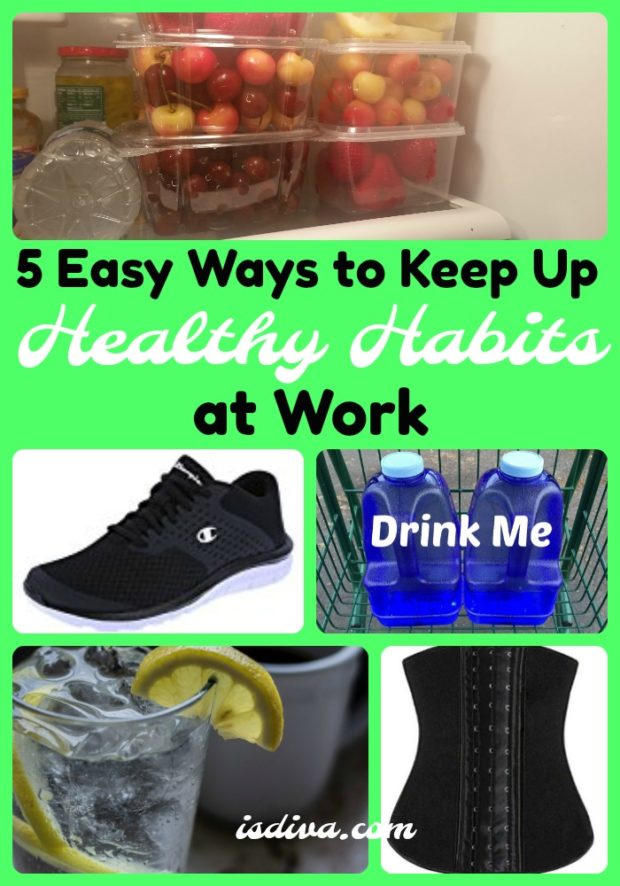 It's the weekend and I'm doing great. I'm drinking my water, eating some healthy snacks here and there, and working out. Then, Monday hit's and I'm ordering Italian Beef with Co-workers, drinking Coke or Pepsi by 1 pm to stay awake, and avoiding the stair walking crew because I "forgot" my gym shoes at home and am wearing my heels. Then, by the end of the week, I'm not drinking water or stepping foot into the gym.
This is soooo typical of me. I'm sure I'm not the only one fighting this battle either! So here is my new plan and tips I'm passing on to you on keeping up with my healthy habits at work (as much as I can).
Start Your Day with Warm Water and Lemon Juice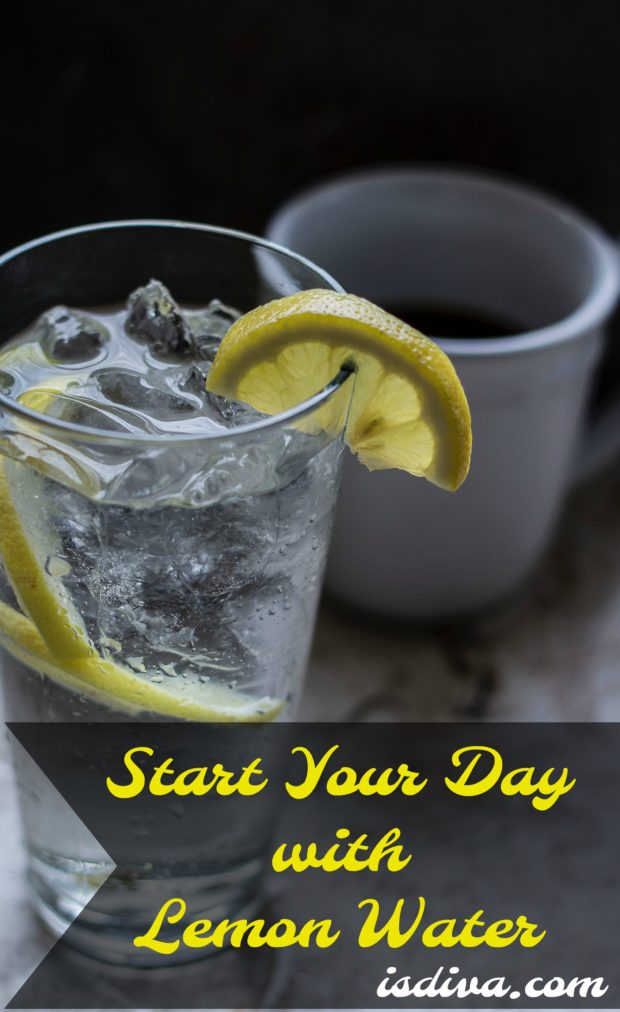 So I've been doing a lot of reading on this. I'm a Monday Through Friday Must Have Coffee Drinker. I promise I'm fine on day's off. It's a bad habit. However, I have found that after having two or three days of straight warm water and lemon juice in the morning that I can go an entire day without coffee at work. Now, on meeting days or stressful event days, I'm taking that cup of coffee!
However, warm water and fresh lemon juice have many excellent properties:
Lemons are packed with Vitamin-C
Lemons helps keep your digestive system on track
Lemons are great at detoxification
Lemons are high in antioxidants, which increase collagen for excellent looking skin
The combination speeds up your metabolism, helping with weight loss and providing energy
Excellent way to increase your water intake
So if you can't get your warm water in before leaving home, you can easily do so at work. You can warm up some water in the microwave for about 30 seconds. If your company has a water dispenser, mix a bit of hot and cold water. If neither of those options exists, use the small spigot on the coffee machine. Once you have your water, squeeze in a fresh lemon slice.
Keep a Gallon of Water with Lemon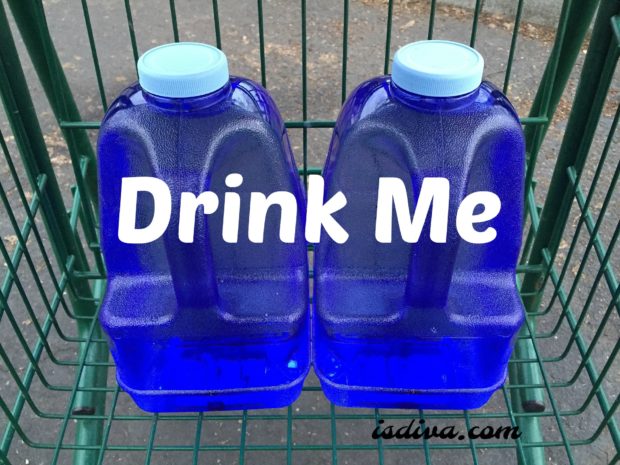 Now, you only had one cup of warm water today. That is not enough to keep you hydrated or flush out the toxins. So keep a gallon jug at work and fill with water daily.
If you don't have time to do this at work, just do it at home the night before and remember to bring it with you to work. Squeeze in a few lemon slices and throw the lemons in. If you want to switch it up, add any other fruit you love.
An inexpensive method is frozen fruit such as strawberries, peaches, raspberries, or mangos.  Now if you are still having problems, check out some of these Water Challenges on Pinterest.
Store Healthy Snacks in See-Through Containers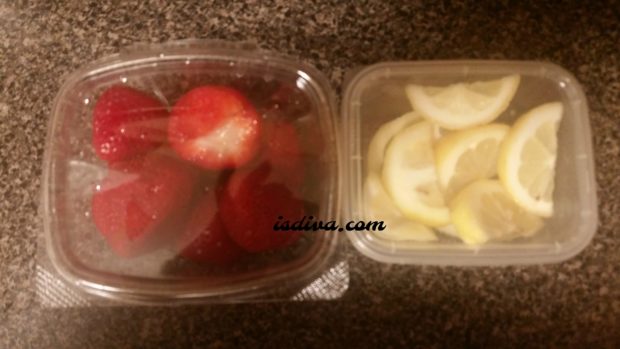 This is going to be HUGE for me. I love my co-workers, I swear I do. But they love jacking my favorite healthy snack – strawberries. If they are in an open container they are gone! So, I needed to find a workaround for myself. Clear plastic containers! Here are 3 reasons why they work:
I see the actual fruit on my desk rather than in a plastic bowl that I forget exists
I can store pre-washed fruits in them for days and grab them out of the fridge on the go
They hold over a cup of fruit, so I can get my daily allowance
See through containers are definitely the way to go. They stack up nicely and hold more fruit than you'd think. I have a few here which works for my lemons throughout the day for my water. I also have one with cherries, grapes, strawberries, and a blend of cherries and grapes.
In this picture, I have the 16oz BPA Free Hinged Container with Lid and the 12oz BPA Free Container with Removable Lid. EPackage Supply is currently running a special where you can get 10% off your first order.
If I didn't do this, I promise my fruit will spoil because I'll forget they exist in the bottom drawers. Or, I'll remember to get them, but will be running behind in the mornings so I can't even grab them!
Now I talk about fruit, but you can add veggies such as celery sticks and carrots. Other ideas include pretzels, mixed nuts, low-fat chips, popcorn, granola, lunch meat, eggs, and cheese.
Wear Your Waist Trainer to Work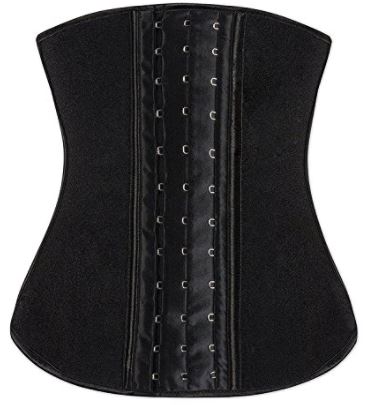 Now we're jumping a bit towards the exercise part. I'm not going to sit here and lie to none of you that I'm working out. Nope, I'm walking! I walk so much at work, it's crazy! Yep, my job is sedentary, but my boss must scream my name 15 times a day! Instant messaging is there just for looks apparently. So besides running in and out of his office, we're also encouraged to get up and take time away from our desks for breaks and scheduled lunch. It helps to de-stress.
So I bring this all up, why? Because for the first half of your day you can wear your waist trainer. You really shouldn't try to wear a waist trainer all day. I know people that do this. However, I like breathing from time to time. I just can't do it all day. But if I put it on before I leave home, by lunch time that's a good 5-6 hours of wear time. I've also got some walking in during that time.
Waist trainers also help with your posture so you're training yourself in that manner as well. Once you get home, put that bad baby back on again and hit the gym! If you don't have a waist trainer, here is a really nice one on Amazon. This is the YIANNA Women's Underbust Latex Waist Trainer.
YIANNA has a variety of colors, has breathable mesh, and I really love that it has 3 sets of hook and eye closures. The one I have now only has 2 and I kind of broke one off! I paid about $90 for mine. For this price and great reviews, this is on my list next month. I'm first going to see if I shed some pounds before my next purchase so I get the right size.
If you have Prime, you can get it in one day – again, no excuses! If you don't have Prime, sign up today! You can Try Amazon Prime's 30-Day Free Trial.
Keep a Pair of Gym Shoes at Work
And finally, my co-workers have a walking session during their breaks. They walk up and down eleven flights of stairs. Again, let me not mislead you. When I do go, I'm going down the stairs only! I hop right on that elevator to go back up.
However, now that it's warm, I have no problem taking walks through the parking lot. If I'm by myself and bored, I'll slap on my Bluetooth and phone a friend or my mom! But the point is to not let yourself have an excuse that you can't do a brisk 15-30 minute walk because you have on heels. Just because you're in a business environment doesn't mean the world is stuck up. It's ok to throw on gym shoes to go outside. This week, take a moment to look out your window to see that "everybody's doing it".
The Champion Women's Gusto Cross Trainer is a great pair to get and just keep at work. Sizes and colors vary. I like the black since it goes with every outfit you'll wear at work! For the most part, they are under $30. Not a bad investment to leave at work.
Now, hopefully, these tips can inspire you to take some healthy habits to work with you. It's all in the mindset. Now I've only given you five tips. So please share a few tips in the comment section below that you have to keep healthy while at work. And yes, I want to hear from the stay at home and work at home moms too! You have your own set of struggles being home with a fridge all day!
~ Independent, Smart, Diva! Like this post? Please share with your friends!