Disclosure of Material Connection: I have not received any compensation for writing this post. I have no material connection to the brands, products, or services that I have mentioned. I am disclosing this in accordance with the Federal Trade Commission's 16 CFR, Part 255: "Guides Concerning the Use of Endorsements and Testimonials in Advertising."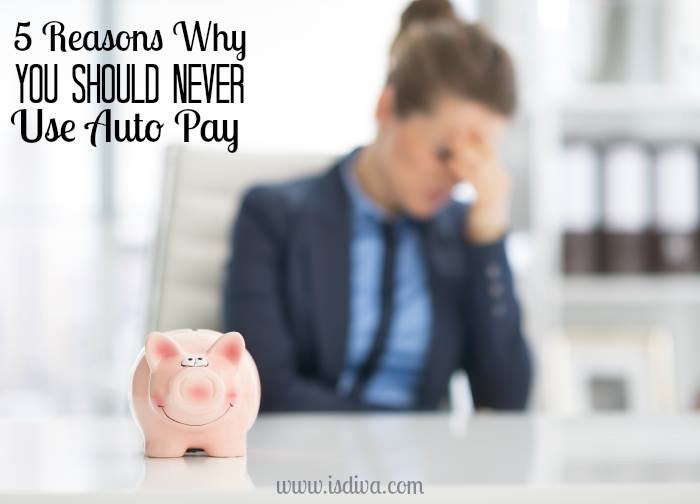 When it comes to your personal finances, you want to make bill paying as easy as possible; I know I do. But, I haven't been a fan of auto payment options since a run-in back in my college days with a particular phone company.
A certain someone decided to make hellified long distance calls on my house phone. I never had long distance on my home phone, because, duh, cell phone! Anyway, long story short, I was not ready for that bill! In the midst of that drama, I set up a payment plan. Guess who input the plan wrong. So I got hit month one with the FULL charge AND month two. Needless to say, I canceled that account totally and skipped out on the home phone for good.
So with that said, over the years, here are my top five reasons you should never use auto pay or phone payment options.
1.    No Need to Pull a Recorded Call
Have you ever made an arrangement or paid your bill using a phone prompt or phone representative? I hate trying to spell my name to verify my account a million times! Not to mention, this is after I've entered my account number.
What was the point?
If you complete your actions online, you have your proof in black and white. To take it a step further, just 'print to PDF' your payment, JUST in case the "system" makes an error. And there you have it. No need to wait 5 days to prove what arrangement or payment you've made from your bank account!
2.    If It Ever Occurs, You Can Avoid Overdraft Charges
Let's face it, crap happens in life. You forget you have to change your oil, your car breaks down, you get a crazy cold and need med's that cost an arm and a leg, your kids outgrow their shoes or have an event they need to pimp out at… LIFE happens! So you look at your bank account and think, wow, I got this covered! And guess who forgot about that auto bill coming out in the next three days. Sigh.
At least paying the bill yourself, you can see what has hit your account. Also, you can set up a future payment date online; THEN call into your creditors and let them know what happened. They are more willing to waive the late fee if you've already set up the payment.
3.    No Need to Remember Which Creditors to Contact and Make a Change
Identity theft is real and so is losing your wallet! I've had it happen, numerous times and must cancel all bank accounts, credit cards, yada yada. So if you have auto payments set up with your bank account, it's time to remember and call each creditor. Who wants to be bothered with that?
4.    Because Creditors Finance Systems Make Mistakes (Yes, Really!)
As much as we wish, creditor's financial systems are just not perfect. Systems go down, entry errors are common, just avoid the hassle and complete the task yourself. If you expect a biller to auto pay something and it's marked late, guess who has to call and fix it… you!
5.    No Need to Talk To a Manager to Stop Disputes
Now I'm not saying you shouldn't pay your bills, but I know I'll be damned if I pay for something and there is a major dispute. Once you give authorization for a creditor to auto deduct from your bank account, do you really think they are going to stop because you are disputing something??? If you work with their online system or your online banking system, it's as simple as, delete! Otherwise, you need to close your bank account, open another, and change all your other payments around.
AIN'T NOBODY GOT TIME FOR THAT!
~ Independent, Smart, Diva! Like this post? Please share with your friends!