Disclosure of Material Connection: Some of the links in the post above are "affiliate links." This means if you click on the link and purchase the item, I will receive an affiliate commission. Regardless, I only recommend products or services I use personally and believe will add value to my readers. I am disclosing this in accordance with the Federal Trade Commission's 16 CFR, Part 255: "Guides Concerning the Use of Endorsements and Testimonials in Advertising."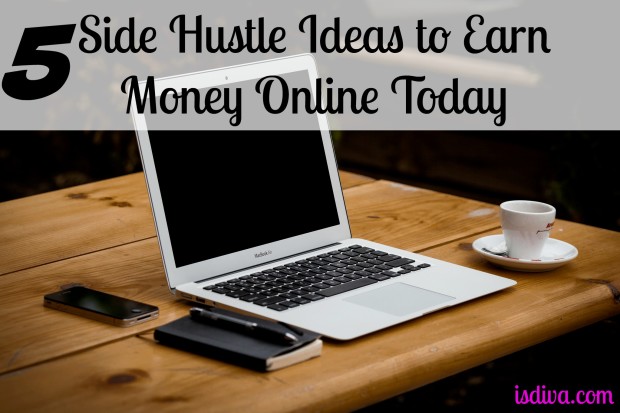 Jobs are limited everywhere. I know people that have been unemployed for years and it doesn't seem to help that McDonalds is "always" hiring. Even employed full time, you get behind in your bills. Kids need supplies for school that you just weren't ready to purchase. The gas hand gets low, and you don't get paid for another three days. There's no food in the home, but going to the pantry is out of the question because they are only open during your work hours! Unfortunately, people face these scenarios every day.
Since I know of people in these situations, I wanted to think of a way to spread the news that you can make money online today. Now as common sense as some of these may seem, some people just aren't acquainted with searching for these ideas.
And everyone seems to think that Uber and Lyft is the way to go. But what if you don't have a car? What if you don't have the credit to get on Lyft's Express Drive Program where you can rent a vehicle to drive or live in a city that offers it?
So what I have here is a listing of five side hustle ideas to earn money online today. This list is outside of the standard sell your unused items on Craigslist. These aren't get rich quick ideas. You can though make a decent $5 and up today with these ideas. Most of these hustle ideas can turn into a full-time business for you.  And even if you are not in any of these situations, this is a great way to add to your seven streams of income!
Design a Logo
Do you have great design skills? If so, how about designing logos. Maybe you know of someone that is starting a business that needs help. Offer your services! You could also offer to redesign someone's logo. Take the leap and just do it and see what they think about it. That's the best way to get cash on the spot! You can start charging $50 and up per design.
Help Someone Out with their Blog
Now, the way I got started with Virtual Assisting (VA) work was helping someone I met through an online forum out with her blog. I helped monitor comments on her blog and Facebook page.
Guaranteed, if you think about it long enough or look in your newsfeed, you know a blogger! Offer to help them out and they could pay you via PayPal to receive your funds today. I wouldn't set my hourly rate below $12, and it would be a one-hour minimum charge.
Sell Your Services
Now, the first two options are about selling your services to someone you know. Another option is to sell your services to the public on sites such as Upwork and People Per Hour. Here, you can sell services such as:
provide data entry
answer phones after hours
write articles
perform voiceovers
write business letters
edit images
turn documents into pdf's
monitor and send emails
perform transcription work
It's free to get started on most sites, and the most effort you need to do is marketing your services. However, you can do that on your social media profiles like Facebook and Twitter. Having a killer headline, of course, is going to draw the most attention and be sure to attach samples in your portfolio.
Some of these will be an hourly charge while others will be fixed rate. But plan to come out with no less than $20 per job. Hey, if you can do a simple image edit or turn a word document into a PDF in 15 minutes, not bad right?
For this, your payout dates will vary, but you'll at least know the money is coming. People Per Hour for instance, once the client approves your work and invoice, you can have the funds in your PayPal account that day or your bank account in 3-5 business days.
Rent Out Unused Space
Opening your home up to strangers is not for everyone, but if you have some extra room in your home, you can rent it out to travelers from all over. AirB&B is a great site to get started with for that.
If you're a bit uncomfortable with someone in your home, another option is to rent out space in your garage or basement for storage. Put an ad up on Craigslist or Backpage and be sure to check for authenticity of those responding to your ads.
Some people are looking to store their motorcycles away for the winter. Someone else just may not trust leaving items in a storage facility. I know quite a few people that stay near train stations and have a designated parking space but don't own a vehicle! They rent their parking space out. You could charge $35 and up monthly depending on your area.
Browse the Internet
I have touched on this great site called Qmee in my Search Smart and Earn Extra Holiday Cash with Qmee post. You simply download Qmee to Google Chrome and search/shop online as usual.
Sites I typically search on are Amazon, Best Buy, Walmart, eBay, and Google. Now, you don't need to make any purchases on these sites, simply search. You'll see the search results on the left side of your screen and can click any related offer and watch the funding drop into your piggy bank. I earned $0.15 just searching for Uber!
You can even earn money by referring a friend. When you're ready to cash out, you'll have your money in your PayPal account to use instantly. Be sure not to abuse Qmee.
I know I've mentioned getting paid via PayPal quite often because it's an easy way to track funds and for you to invoice someone. Payment is immediate and on your PayPal card. Now, if you don't have PayPal already, and there is an option for an alternative payment method, see if they could transfer the funds to your bank account (like Chase QuickPay) or send you an Amazon gift card if you're looking to make a purchase online.
Are you already set up with any of these additional income streams? If so, which and how did you get started? Who do you know that could benefit from this post? Be sure to share it with them.
~ Independent, Smart, Diva! Like this post? Please share with your friends!