Disclosure of Material Connection: Some of the links in the post above are "affiliate links." This means if you click on the link and purchase the item, I will receive an affiliate commission. Regardless, I only recommend products or services I use personally and believe will add value to my readers. I am disclosing this in accordance with the Federal Trade Commission's 16 CFR, Part 255: "Guides Concerning the Use of Endorsements and Testimonials in Advertising."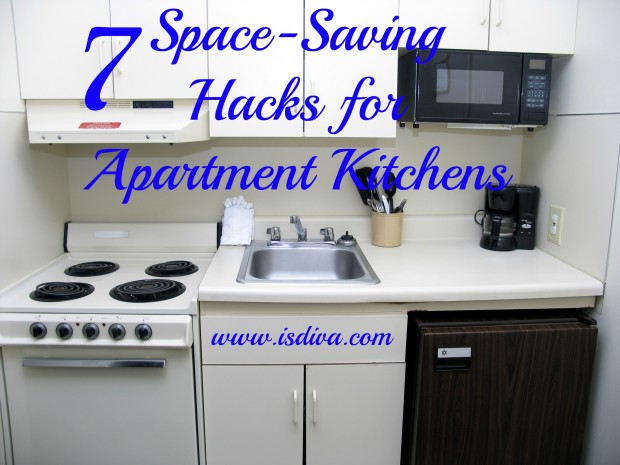 I recently moved into a new apartment. While it's quite large, especially the kitchen, it's not enough shelving or counter space. Dealing with a small kitchen or a kitchen without the storage space you need may seem like a challenge, but in many ways, it's a blessing in disguise. It forces you to minimize your belongings and make use of every available inch of space. I'm also saving money on groceries. So if you're looking for ways to do that in your kitchen, read these seven space-saving hacks.
1. Minimize Your Pots and Pans
Advertisements encourage people to have multiple pots and pans—different shapes and sizes—for just about everything imaginable. But do you really need three to five pots in various sizes? Do you really need separate skillets for cooking Chinese or making eggs? Not when space is limited. Stick to the few basic pieces you need for a functional kitchen.
Bonus tip: Instead of storing your pots and pans in your cabinets, suspend them from the ceiling or wall. Pot hangers offer some visual interest and help you save valuable cabinet space.
2. Use the Backside of Your Cabinet Doors
Are you having trouble fitting all your measuring cups in your drawers? Add some small hooks to the inside of your cabinet doors to hang them. They'll be handy when you need them and out of your way when you don't.
3. Add Shelving to the Walls
If you don't have many upper cabinets to store dishes, add some floating shelves to the walls to display your most beautiful pieces (and keep the ugly stuff in the cabinets). To make floating shelving work, however, you have to dust frequently and stack things nicely. Otherwise, it'll detract from the overall look of the room.
4. Store Spices in Magnetic Racks
Let's face it—spice racks may be cute, but they're hardly practical. They take up valuable space on your counters. And if you don't have a spice rack, your spices are likely in your cabinet getting knocked over whenever you need something you haven't used in a while. Get rid of the disorganized mess! Glue some strong magnets to plastic racks from your local dollar or home improvement store. Put your spices in them and stick them on the side of the fridge for easy access.
5. Ditch the Knife Block
Knife blocks take up way too much counter space, but you don't want your kids to be able to grab them from the doors. Keep them safely away from little hands and off your counters by mounting a strong magnetic strip to the wall above your stove or sink.
6. Invest in Smaller Appliances
Don't try to fit full-size appliances into a small apartment space. They'll overwhelm the kitchen and take up too much room. Instead, invest in smaller, slim-line appliances that are more suitable to apartment kitchens. Refrigerators, ranges, dishwashers and trash compactors all come in slim, space-saving designs.
7. Build or Purchase a Fold-Down Table
Most people only use their tables for about an hour each day, yet they take up loads of room in the kitchen if there's no separate dining area. A fold-down table hung on the wall offers the best of both worlds. You can fold it down when you need it, and put it up when you need more floor space. Use stackable benches for seating around the table when it's in use. The fold-down table also provides extra counter space when needed for chopping vegetables and preparing large meals.
Your kitchen doesn't have to be big to be functional. With a well-thought-out plan, smart organization and streamlined appliances, your small kitchen will provide all the space you need. And if you find yourself envious of your friends with spacious kitchens, remember that the more space you have, the more you have to clean. Cleanup in small kitchens is a breeze!
Are you looking for an apartment? Check out what Apartment Hunters, Inc can do for you!
Apartment Hunters, Inc owns one of the largest real estate listings website in the United States www.FeaturedRentals.com. Their website provides full and legitimate services for all their customers:
Hundreds of thousands of real estate listings.

Detailed listing information, property address, contact details and much more.

Daily email & SMS updates.

Full 24 hours a day live support by phone, chat and emails!
What are your kitchen hacks?
~ Independent, Smart, Diva! Like this post? Please share with your friends!