Disclosure of Material Connection: Some of the links in the post above are "affiliate links." This means if you click on the link and purchase the item, I will receive an affiliate commission. Regardless, I only recommend products or services I use personally and believe will add value to my readers. I am disclosing this in accordance with the Federal Trade Commission's 16 CFR, Part 255: "Guides Concerning the Use of Endorsements and Testimonials in Advertising."
Well, ISDiva was to get started October 1, 2014. However, after posting my Arm & Hammer deal of a lifetime, (40 bottles of 61 oz. Arm & Hammer detergent for $40) the questions did start to pour in.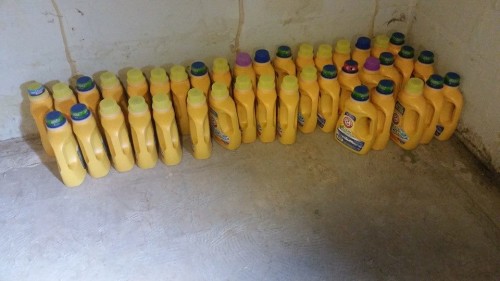 Where do you get the coupons?

Please help and tell me… inbox me too please

Inbox please!!! I'm clipping at work right now!!!
Well, Let's Start, Shall We?
Have you ever watched TLC's Extreme Couponing? Well, it's a real process. Couponing is not reserved for the "poor". It's for ALL. And duh, how do you think the rich get richer? Now a while back, I wrote a post about couponing. Well, that post turned into a couponing series. So, be sure to catch up on my three post-series to get an understanding of how you can start couponing without loosing your head.
I'm sure the most important question everyone wants answered is, How can I do exactly what you did. How can I get an entire bottle of detergent for $1?
The simple answer: YOU NEED LOTS OF COUPONS. My source (whom I can't reveal for privacy reasons) allowed me to "have" 10 coupons. Please remember you're never buying and selling coupons. Only purchasing (selling) for the time someone takes to clip and cover the shipping.
My Arm & Hammer Deal
These were $2

off

every 2 bottles.
Food for Less had Arm & Hammer on Sale $1.99
Making this purchase $3.98 less $2 = $1.98 for 2 bottles = $0.99 each bottle (don't forget to add in your tax).

Since

Food for Less limits the purchase

to

2 bottles per transaction, I took my verifiable receipt (which lists the size of the detergent) and headed over to our trusty neighborhood Wal-Mart to get the price-match deal.
So hey, if it's in stock, grab it! If there are no "purchase limitation" signs, you're in good. (Please note, this deal is over, but I'll post new ones soon)
Where to Grab Weekly Coupons
Now, you can get coupons from the SmartSource and RedPlum coupon inserts found in Hoy, Chicago Tribune, and the Chicago Sun Times. If you're reading this and outside of the Chicagoland area, simply search those two terms to find out where you can get these awesome coupon inserts. The Grocery Game is an excellent way to figure out which paper you'll find your helpful coupons in.
Where to Find Additional Coupons
The good news is, there is not a shortage of great coupons.
Grab printable coupons from Coupons.com
Check out the direct manufacturer site
Ask your neighbor for extra coupons
Take advantage of free newspaper delivery options! Ask your friends, neighbors, and family members if you can sign them up
If you live in an apartment complex, and those coupons are there collecting mud traffic

…

scoop them up
Join a coupon swap book on Facebook
Grabbing mail from the post office? Check the recycling bin to see if other PO Box owners have tossed theirs
Start a coupon group at your local library or ask to have a coupon basket setup. Leave one, take one. Pay it forward!
~ Independent, Smart, Diva!
~ Independent, Smart, Diva! Like this post? Please share with your friends!