Disclosure of Material Connection: Some of the links in the post above are "affiliate links." This means if you click on the link and purchase the item, I will receive an affiliate commission. Regardless, I only recommend products or services I use personally and believe will add value to my readers. I am disclosing this in accordance with the Federal Trade Commission's 16 CFR, Part 255: "Guides Concerning the Use of Endorsements and Testimonials in Advertising."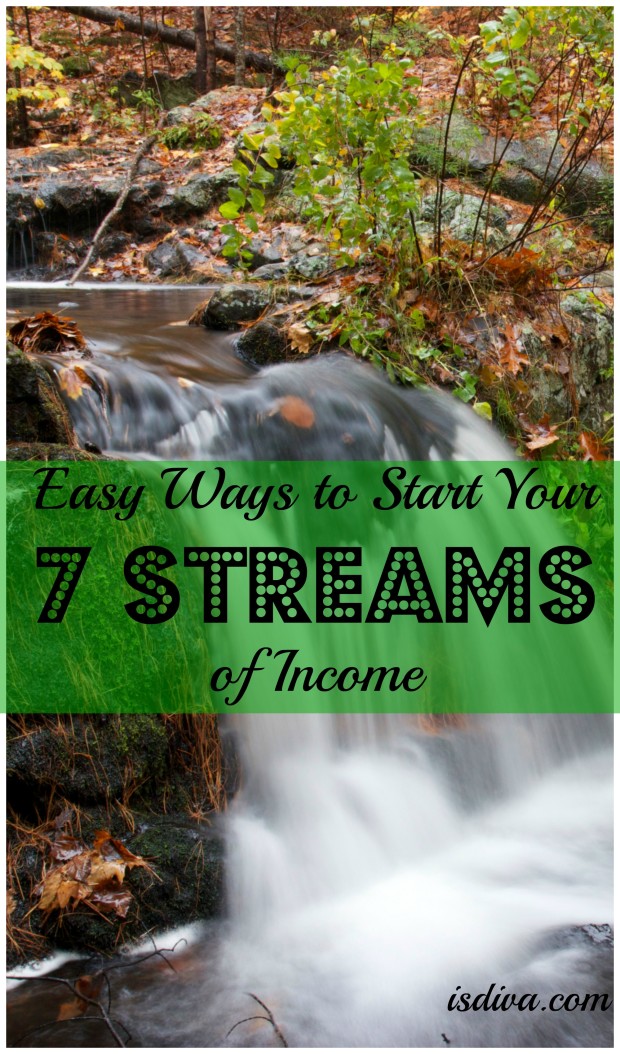 So today I wanted to talk about this 7 streams of income business. You may be thinking… it's hard as hell to get my one stream of income (job), so how am I going to bring in SEVEN more?
When I first heard of this, I thought the same thing. However, working from home, I had to put it into perspective. The seven most popular seven streams or sources of income are:
Earned Income
Profit
Interest
Dividend income
Rental income
Capital gains
Royalties
Now for most of us, earned income and interest should be simple. But how do you get started in rental income if you don't have the money? Well, I'm not going to tell you to invest with others and yada yada. It's time to get real! I'm also not going to tell you to get a second job. I'm going to tell you what I do.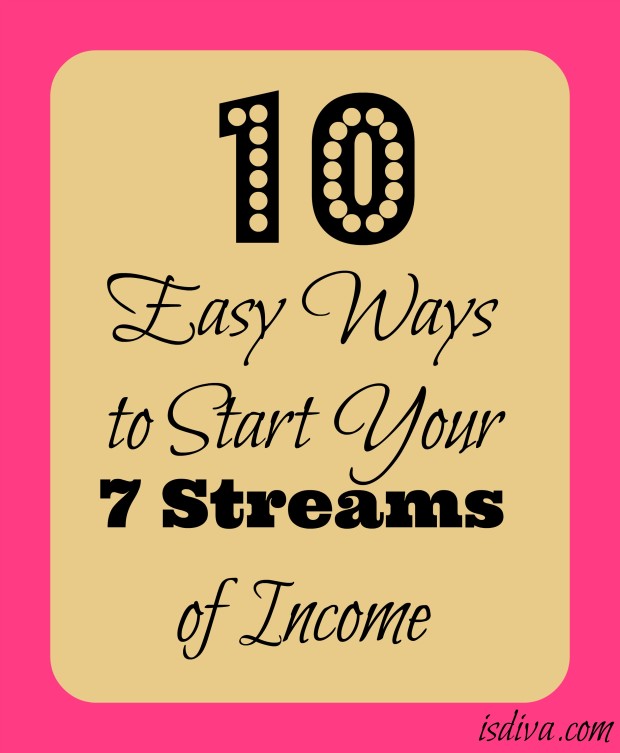 Earned Income – I work full time outside of my home.
401k – I'm vested in my jobs 401k plan. I invest 6%, and my company matches me for a total of 6% – holla – FREE MONEY!
Cash Back – I have a Capital One Credit Card (Quick Silver), so I earn cash back with each purchase. And I mean everything I purchase or pay for, I do with that card if possible. American Express, Discover, Chase, and Bank of America are a few other cards you can look into.
Side Business – I'm a freelance writer. I started this working from home full time. I do this part time now, I probably only bring in a quarter of that in, but it's an income stream I enjoy (from time to time). Your side business can be online or at home such as babysitting, graphic design, or insurance sales.  I also am a virtual assistant. So I work for someone that has a hot blog (shout out to GiveAWays4Mom) and I have another client I help out with her admin tasks. We deal with Amazon and eBay.
Hobby Business – I also have an account on Fiverr. Here you can do quick jobs for $5. If you can sing, put up an ad for singing. If you write poems, put that up. If you make bracelets, put that up (don't forget to add in shipping charges). You can also sell your crafts on sites such as Etsy and Shopify. Need ideas? Make Black and White photos, t-shirts, rope bowls, pillows, coasters, candles, natural soaps, and candles.
Capital One Savings – I have a few Capital One savings accounts. These do earn interest, but they also help me stay on track of savings goals (i.e. my Opportunity Fund NOT Emergency fund…)
Sallie Mae Savings – I have two accounts. Right now, their interest rates are the highest, so most of my savings are here). Be sure to check for specials for opening new accounts.
Affiliate Income – I'm signed up with a few affiliate companies. One is Amazon. So I make a few product reviews and link my affiliate link to the products directly. If someone using my link to Amazon, for instance, I receive a credit at no cost to the person that clicked my link. I'm also an affiliate with Share a Sale, a Virtual Assistant Ebook, and quite a few others. I'll post about these sometime in the near future.
Direct Sales – Currently I do more direct sales with Sass N Frass. But I've also done direct sales with Avon in the past. You can try Younique, Herbalife, Jamberry Nails, Mary Kay, It Works, or Thirty One Gifts.
Drop Shipping – I'm an eBay drop shipper. I've cut back some because of my work schedule, but it's easy to source items from garage sales, the dollar store, Amazon, and even Craigslist. Just find items that are super cheap and upsell them on eBay.
So there you have it. I've actually surpassed the seven streams of income and have ten. I'm sure if I think about it, there are a few more.
Check out more income opportunities to add to your income streams on my Money Making Reviews tab.
~ Independent, Smart, Diva! Like this post? Please share with your friends!