Disclosure of Material Connection: I have not received any compensation for writing this post. I have no material connection to the brands, products, or services that I have mentioned. I am disclosing this in accordance with the Federal Trade Commission's 16 CFR, Part 255: "Guides Concerning the Use of Endorsements and Testimonials in Advertising."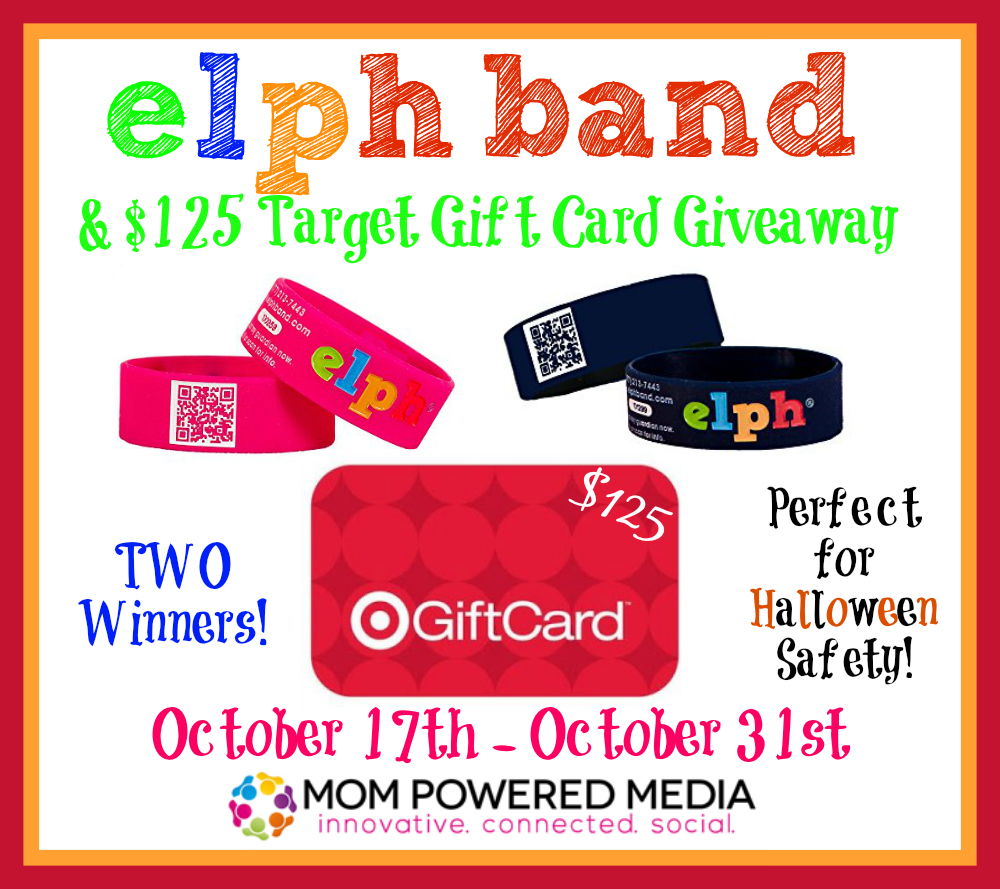 Welcome to the ELPH Band Giveaway Event!
Mom Powered Media, ELPH Band, and fantastic group of amazing bloggers have come together to bring you this event, just in time for Halloween.
Hosted by: Mom Powered Media
Sponsored by: ELPH Band
The ELPH Band is a link to your identifying information, such as your address, parent or guardian cell phone numbers and any other information you think is necessary, including medical conditions or drug allergies your child may have. Whether you're traveling to a theme park, zoo, park, a crowded festival or even the mall, the ELPH Band can help find your child in the event he/she gets separated from you. It only takes one second for a child to disappear out of your sight.
As you know, my children are teenagers. However, I remember a time at the store when I felt my heart drop. I could not find my son and none of the store associates had seen him. It was the worst 10 minutes of my life. We all searched the store high and low until I just thought, he must have left the store. It turns out, he was up front waiting for me. He was so tiny, no one really noticed him. Since then, I have kept a close watch, but would have purchased the ELPH Band in a heartbeat should I needed it then. This has arrived right in time for the holidays as parents are out in congested malls. It's easy for children to get separated. I do have nieces that I take out with me often, so you better believe they each have one!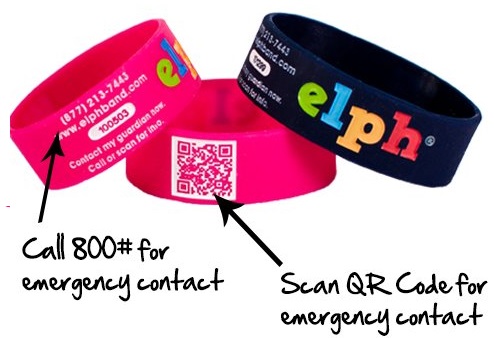 The ELPH band is a non-toxic, durable, silicone wristband. It provides an immediate, highly visible form of identification with clear instructions directly on the band. It's easy to use with options to dial in or scan the QR code. ELPH Band does not put personal information, such as the child's name or phone number where people can see it when it isn't needed.
What does ELPH stand for? Easy Lookup to Phone Home
If your child get's separated from you, all your child needs to do is show an adult his/her ELPH band. That adult can then call the 800# or scan the QR code to get in touch with you to reunite your child with you! It's that simple!
Once the QR code is scanned on a smartphone, a screen similar to the one below will pop up for them to get in touch with you.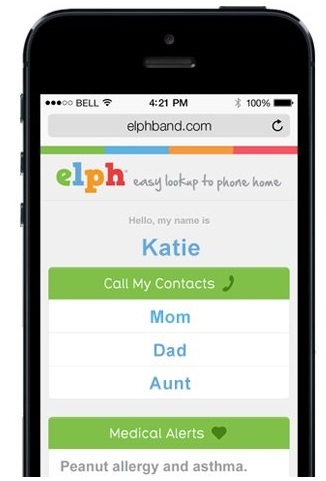 To set up your ELPH band you will register it on a computer, or by scanning the QR code yourself and setting it up via your smartphone. Just a few simple questions and you will be registered. Once completed, you will get a text and email alert letting you know the account profile is active, and to verify the information has been entered correctly.
ELPH Bands are available in 3 sizes: Toddler (up to 5.75 inches), Child (up to 6.5 inches), and Adult (up to 7.5 inches). They are also available in two colors, Navy or Pink.
Buy it: ELPH Bands are $19.99 each and they come with 1 year of service. You can purchase here. After 1 year of service, you can renew your service with ELPH Band.
Connect with ELPH Band
Website | Facebook | Twitter | Pinterest | Instagram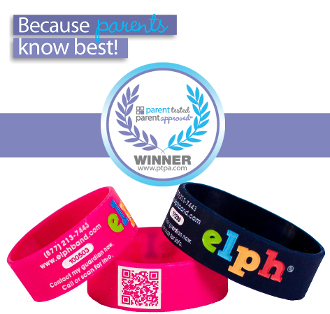 Now for the Giveaway!
TWO Lucky Readers will win an ELPH band of their choice, as well as a $125 Target Gift Card. The giveaway is open to US Residents, void where prohibited. Must be 18+. Only one entrant per household, per address. Winner is subject to eligibility verification. Winner will be contacted via email and have 48 hours to respond before a new winner is chosen. Giveaway ends October 31st, 2014 at 11:59pm EST.
Disclosure: The participating bloggers were not compensated for this posting. All thoughts and opinions are those of our own and were not influenced in any way. Facebook, Twitter, Pinterest, Google, and any other social media are not affiliated with this posting or giveaway. The participating bloggers are not responsible for prize fulfillment and shipment. Only one entrant per household, per address may enter. Winner is subject to eligibility verification. Winner will be contacted via email and will have 48 hours to respond. Failure to respond in a timely manner, a new winner will be chosen and you will forfeit your prize. This disclosure is done in accordance with the Federal Trade Commission 10 CFR, Part 255 Guides Concerning the use of Endorsements and Testimonials in Advertising. If you have any questions about this event or would like to see your event hosted by Mom Powered Media, please email Darci@MomPoweredMedia.com
~ Independent, Smart, Diva! Like this post? Please share with your friends!