Disclosure of Material Connection: This is a "sponsored post." The company who sponsored it compensated me via a cash payment, gift, or something else of value to write it. Regardless, I only recommend products or services I use personally and believe will be good for my readers. I am disclosing this in accordance with the Federal Trade Commission's 16 CFR, Part 255: "Guides Concerning the Use of Endorsements and Testimonials in Advertising."
I wanted to do a quick blog post regarding this interesting new product I want to try out – SLIMQUICK Pure Extra Strength Gummies. SLIMQUICK is a weight loss supplement gummy – yes for adults! I have found that if it's anything remotely related to prescription or OTC pills, I just can't get into the habit of taking it. I'm even terrible with vitamins. Now when they come in the form of some tasty chews, I'm all over it.
Sitting at home daily blogging, writing, and running a few other businesses, it's often hard for me to get any exercise done. That's how the review for the SLIMQUICK Pure Extra Strength Gummies caught my attention. The claims are that women can lose up to 3x's the weight as opposed to other diet remedies in just 13 weeks. I mean, what do I have to lose but the weight?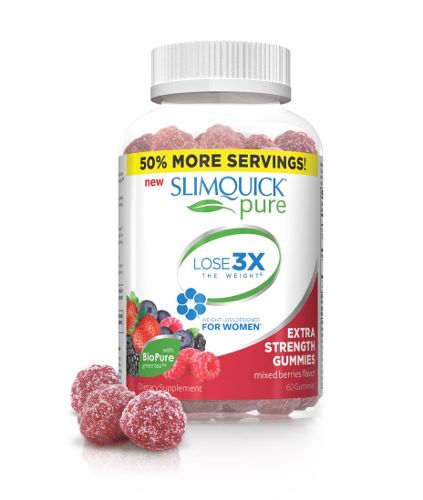 Below is a bit of an excerpt from the makers of SLIMQUICK Pure Extra Strength Gummies.
SLIMQUICK Pure Extra Strength Gummies
Lose 3X the Weight*
With Bio Pure Green TeaTM
Stimulant Free
Amazing Mixed Berry Flavor
SLIMQUICK Pure Extra Strength Gummies are sweet and juicy mixed berry flavored and are all-natural and free of artificial colors. In fact, they are such a treat you won't believe they are actually helping you lose weight! SLIMQUICK Pure is a ground-breaking formula that's designed to help women lose 3 times the weight in 13 weeks. Its exclusive natural extract is so potent, it makes SLIMQUICK Pure the most effective female weight loss supplement.
SLIMQUICK Pure has isolated the fat burning components in green tea that speed up your metabolism better than any unhealthy chemical ingredient. SLIMQUICK Pure with BioPure Green Tea allows for three times the absorption of fat burning agents called catechins, and you can lose three times the weight. Guaranteed. That's right, lose weight or your money back.
Brand Name: SLIMQUICK Pure
Product: Extra Strength Mixed Berries Gummies
Website: www.myslimquick.com
Required Legal:
*A clinical study has shown that overweight women using SLIMQUICK Pure's key ingredient, along with a 1350 calorie diet, lost 25 pounds vs. 8 pounds with diet alone in just 13 weeks. Copyright 2014. All rights reserved.
I'll post and let you know how I like the product. I should have it shortly and the review will begin!
Take Advantage of This Great Offer
Before I go, I wanted to offer you ahead of time this $5 off coupon. I encourage you just to grab it now before you miss the coupon.
~ Independent, Smart, Diva! Like this post? Please share with your friends!