Have you ever had someone tell you about a dish they make and you turned around and thought about nothing else but that dish? Well, that was me last weekend. My aunt was telling me about her rice casserole and how she needed to make it for a friend of hers. I can't recall ever having it (of course that may be because I'm always attacking her cheesecake). However, she told me a few ingredients, and I thought oh ok.
However, the next day all during work, I could not think of anything else but that darn rice casserole. So, since it was a raining night, there was NO way I was going to go out and allow my hair to get wet and puff up – not on my watch!
So I went out to my trusty Aldi grocery store and grabbed up the ingredients I could remember: rice, cream of mushroom soup, cheese, and milk. Now gosh darn it, I know it was more! So I just started imagining what it should have. As I walked through Aldi I picked up a tri-colored pack of bell peppers and a package of ground turkey. I also remembered I had fresh spinach left over I needed to cook up, so this just instantly became a key ingredient!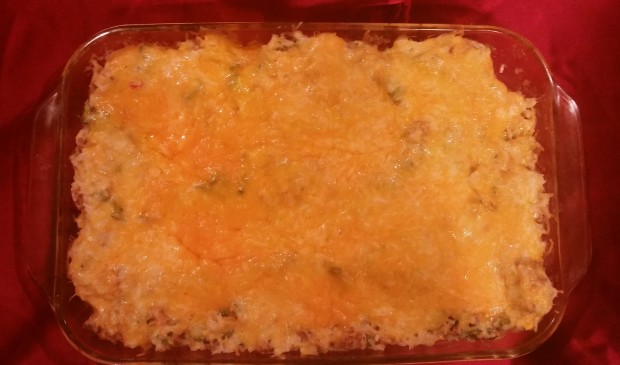 Now, I call it my goulash rice casserole dish because when I told my mom what I put in it, she said I might as well have made goulash! If you've never had goulash, just wait for it, I guess I'll have to post that recipe as well!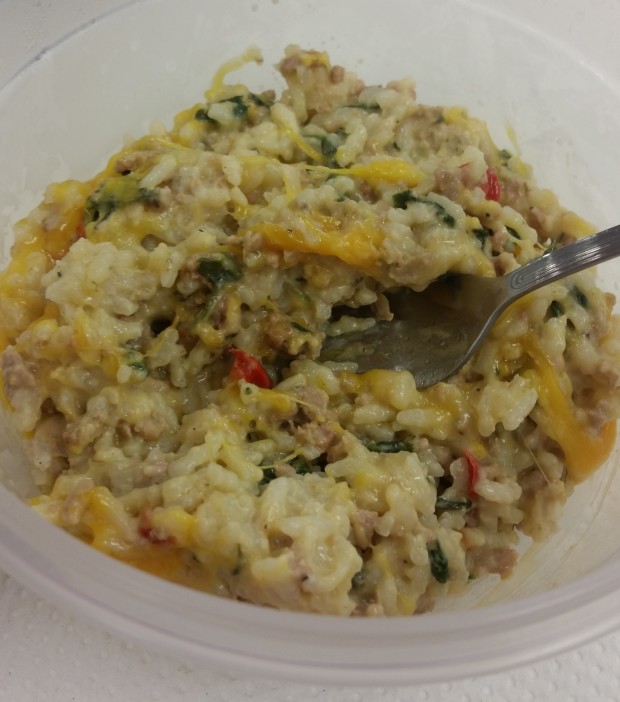 I must say, this turned out exceptionally well, so well in fact the kids and I are sure we will have it at least once a month, maybe twice. Now, the oldest is a vegetarian, so it was no meat for her. My youngest is a broccoli fan, so she'll get her own pan made with broccoli. My son is not a fan of peppers, so he will get his without peppers. Yes, folks – 4 separate pans of rice casserole! You better believe they are going to have to learn how to make their own! This is perfect for parties and this Portable Pyrex Set is perfect to take from the oven to parties in no time!
Ingredients
3 cups of rice (uncooked)
1 red bell pepper
1 orange, yellow, or green bell pepper
1 16 ounce pack of shredded cheddar cheese
1 16 ounce pack of shredded Colby jack cheese
3-4 handfuls of fresh spinach leaves
2-10 ounce cans of cream of mushroom soup
Milk (2 cans worth)
1 pound of ground turkey
Salt and pepper to taste
Instructions
Cook the rice according to the directions. Drain and rinse once done. Return it to the pan.
While the rice is cooking, in a skillet, cook the ground turkey. Season with salt and pepper.
Dice the peppers and add to the ground turkey.
Shred the spinach.
Once the ground turkey and rice are done, combine the two in the pan with the rice. Add the cream of mushroom soup, 2 cans of milk, and spinach. Mix well.
Stir in 1 handful of cheddar cheese and Colby Jack cheese.
Pour mixture into Casserole dishes and top both off with a combination of the cheeses.
Bake in the oven at 300 degrees for 20-25 minutes or until the cheese is melted well, and liquid is absorbed.
http://isdiva.com/goulash-rice-casserole/
~ Independent, Smart, Diva! Like this post? Please share with your friends!
Disclosure of Material Connection: Some of the links in the post above are "affiliate links." This means if you click on the link and purchase the item, I will receive an affiliate commission. Regardless, I only recommend products or services I use personally and believe will add value to my readers. I am disclosing this in accordance with the Federal Trade Commission's 16 CFR, Part 255: "Guides Concerning the Use of Endorsements and Testimonials in Advertising."