Disclosure of Material Connection: I have not received any compensation for writing this post. I have no material connection to the brands, products, or services that I have mentioned. I am disclosing this in accordance with the Federal Trade Commission's 16 CFR, Part 255: "Guides Concerning the Use of Endorsements and Testimonials in Advertising."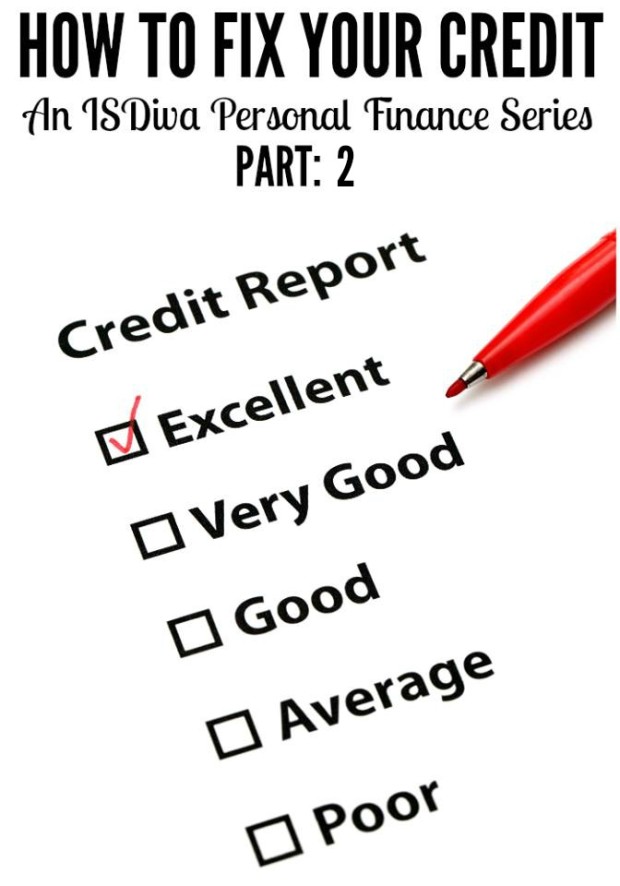 Here is Part 2 of the How to Fix Your Credit -Personal Finance Series: Understanding Your Credit Report – 7 Important Sections
So now that you have your credit report in hand, via paper or electronic, it's time to decipher this thing down. Let's review the seven important sections that are on your credit report.
Names Reported
Any time you apply for credit or have something in your name, it will appear on your credit report. I use my nickname, "Taya", for many things, so that, as well as my legal name, appears on my credit report. If you notice a name on your report that you never use or are reported as a "Jr" and know you are not, this needs to be corrected ASAP. Someone could have used your good name and social security number to get something for themselves.
Addresses Reported
Your addresses can show up for the past 7 years. So reviewing your report each year is very important. You never know if a utility bill could have been placed in your name or expensive merchandise or credit card ordered and sent to an alternate address.
Employment Information
It's rare, but someone may use your identity to get themselves a job. Also, if you work from home and have registered your business, it will appear here as well. Always give this a quick glance.
Accounts
This is the major section of your credit report to keep tabs on. This section details any open and closed accounts, including payment history, payment status, and your balances. Verify that these are accurate amounts and statuses. Be sure to look for any accounts you did not open.
Credit Inquiries
Here you'll find any hard credit pull on your account. Hard credit is different from soft credit pulls in that someone needs to look in great detail of your account. You'll find this for credit cards or residency verification. Typically, you'll see the inquirer's name and phone number, so if it seems suspicious, give them a call.
Collections
The collections section I find is just as important as your accounts. You know how it is when you get a call from one creditor and a piece of mail from another? Well, they sell accounts off each year, and sometimes two collection agencies will have your account at the same time. I had a cell phone plan over 4 or 5 years ago and do you know it's showing on my account as in collections just now! I called the company to ask them a few important questions:
If I had this pay as you go bill, how did it accumulate so high?
And, considering how I had the same number, why didn't you call me?
Also, why is it that I was able to have service with the next carrier immediately?
You see why it's important to check your report?
Public Records
Finally, the public records section contains any judgments, bankruptcies, or tax liens you may have against you. Again, if someone has stolen your identity, judgments can easily occur.
If you've noticed any inaccuracies with the above sections, reach out to the creditors, collection agencies, and the credit bureaus immediately. In the next part of this series, I'll discuss how to do so.
If you missed Part 1: Get a Copy of Your Credit Report, be sure to check it out.
Or keep up with the series via Pinterest!
Follow I-S-Diva's board How to Fix Your Credit: An ISDiva Personal Finance Series on Pinterest.
~ Independent, Smart, Diva! Like this post? Please share with your friends!