Disclosure of Material Connection: I have not received any compensation for writing this post. I have no material connection to the brands, products, or services that I have mentioned. I am disclosing this in accordance with the Federal Trade Commission's 16 CFR, Part 255: "Guides Concerning the Use of Endorsements and Testimonials in Advertising."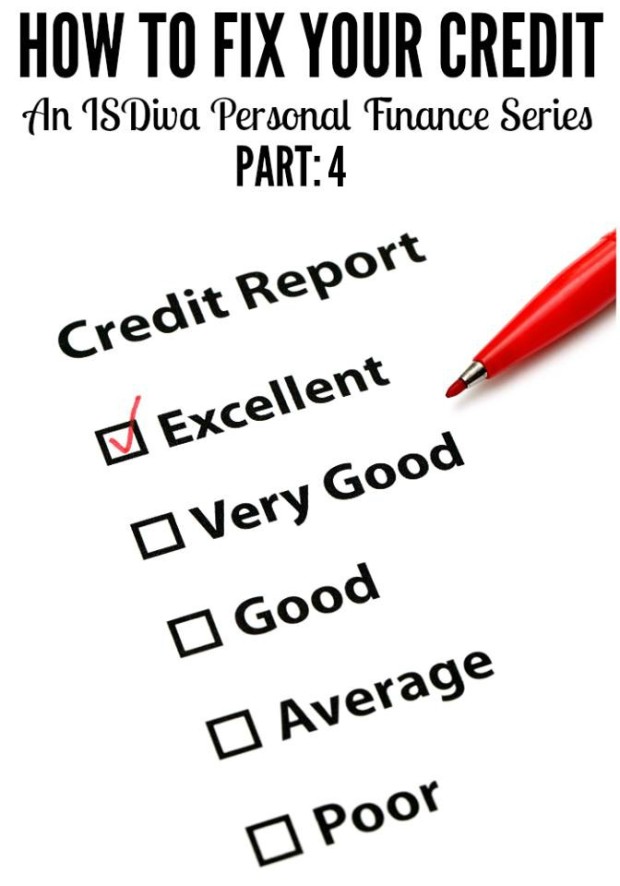 In part 3 of the How to Fix Your Credit -Personal Finance Series, I reviewed how to handle inaccuracies on your credit report. Now in one week, everything is not in order yet, but you can start working on other accounts. In the upcoming week's, I'll review how to start getting your report in mint condition. Today's post is about how to negotiate terms with your lender.
Call Your Creditors to Negotiate
The very first thing you want to do when trying to pay down your debt is to talk to your creditors. Speak to them about renegotiating your terms.
The Confrontation Call
Let's say you receive a letter stating that your interest rate has increased. Call them and ask them why. If it is something that is of no fault of your own, ask if they can reverse this. If they cannot, ensure this higher interest rate is for future purchases only and not your previous balance.
The Valid Reason Call
You can also discuss with your creditors if they can reduce or eliminate your past late fees or over the limit charges. Let them know if you ran into a financial hardship last year, such as a job loss or excessive medical expenses. It is possible they will try to help you out and decrease your overall balance dramatically.
The Let's Make a Deal Call
You can also ask your creditors if they would be willing to reduce your debt if you can pay it off in full. Now is the perfect time to do so since it's tax season! Don't let this money go towards vacations, clothes, or a new car. Get rid of that debt with your refund!
If the creditor accepts your deal, make sure you get something in writing from them before sending in that lump payment. If they are hesitant about sending you anything prior to, offer to pay half of the agreed amount as a good faith payment. Then, send an email to the representative you spoke with regarding your arrangement, or better yet, have them send you one.
The You Won't Get a Dime Out of Me Call
Your final attempt at reducing your terms with a creditor includes telling them you may have to declare bankruptcy. If you file bankruptcy, the creditor will take a loss. To prevent this, they are willing to help consumers as much as they can.
It may take a few phone calls and put things in writing, but the savings are well worth it. There are also organizations that can renegotiate your debts as well.
Hopefully, this gives you the jump to pick up the phone and hold that discussion. This one phone call can save you hundreds of dollars!
What's your negotiation success story?!
Be sure to keep up with the series. Below, you can check out the series on Pinterest and pin them for later.
Follow I-S-Diva's board How to Fix Your Credit: An ISDiva Personal Finance Series on Pinterest.
~ Independent, Smart, Diva! Like this post? Please share with your friends!