Disclosure of Material Connection: I have not received any compensation for writing this post. I have no material connection to the brands, products, or services that I have mentioned. I am disclosing this in accordance with the Federal Trade Commission's 16 CFR, Part 255: "Guides Concerning the Use of Endorsements and Testimonials in Advertising."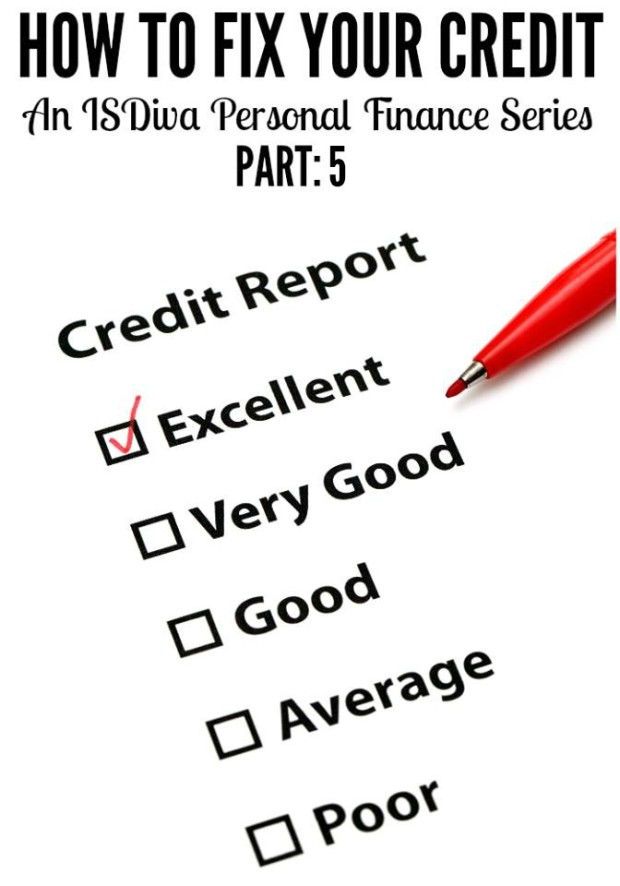 In part 4 of the How to Fix Your Credit – Personal Finance Series, we started to learn how to get your report in mint condition. Last week we started with negotiating terms with your lenders. This week we'll review a pretty basic strategy. Although this may seem common sense to you, for many others it's their start of trying to fix their credit. So it's always worthwhile starting from the very beginning. Today, let's review why you should pay more than your minimum payment.
Pay More than Your Monthly Minimum Payment
One of the things you can do to pay down your debt without reaching out to your lender is to pay more than your monthly minimum payment. Usually, you will find your minimum payment is 2% to 3% of the outstanding balance. So, this means your minimum payment can shrink as your balance lowers.
Take the following example of a credit card balance that is $5,000. If your interest rate is 18.9% and your minimum monthly payment is 3%, you are looking at a payment of $150 per month for a total of 48 months. In the end, you would have paid $7,146.
However, adding on an additional $50 a month, you would pay this loan off in 33 months and have paid a total of only $6,405, saving you $741.
Credit card companies are tricky. As your balance lowers, you will make smaller minimum monthly payments –stretching out the time it takes to pay off your bill. So pay the additional $50 each month and stick to it until your loan is paid in full.
Don't think that you have to do $50+ just to make an impact. Truly, an additional $10-$15 really does help. You can even send it in a week or two after your payment date to continue to lower your principal balance for the month.
Finding That Extra Money
Great, I can just apply a bit of extra money and my bills will be taken care of! Well, honey, where am I going to find the money?
Sure, it's easier said than done to get and apply extra money towards bills. Getting a second job is a great way to earn extra money. However, there may be obstacles in obtaining a second job. For one, many families have children. If so, it is not feasible for most to pay a babysitter on a part-time job's income.
For others, it's too much time sacrificed when you have young children. You also could be spending more on gas and the maintenance of your vehicle if you drive too far for your second job.
Some easy ways to make extra money without breaking the bank or the hearts of those you love include:
Selling items from your home – Sell items you no longer need.
Sell other items you find free – Check out the free listings on Craigslist and see if you can get those items, then turn around and sell them for a profit.
Work around the neighborhood – Work around the neighborhood landscaping, babysitting, or cleaning pools.
Start your own business – Start consulting, preparing taxes, selling gift baskets, website design, or freelance writing.
Check out my Pinterest board of which I consistently add great finds from around the web on Ways to Make Money.
Make sure to get the entire family involved in bringing more money into the home. Sure, your kids are not going to want to give you their earnings. Instead, make them work for what they want.
Most kids can work around the neighborhood or get a part time job telemarketing or at the grocery store. This enables them to start being financially responsible and purchase their own bike, skates, or pay for the movies. That will free your money to put towards your debts.
Next week, we'll discuss the two payoff methods you should decide upon when paying off multiple bills.
What are your methods for saving up extra money to apply towards a bill?
Be sure to keep up with the series. Below, you can check out the series on Pinterest and pin them for later.
Follow I-S-Diva's board How to Fix Your Credit: An ISDiva Personal Finance Series on Pinterest.
~ Independent, Smart, Diva! Like this post? Please share with your friends!