Disclosure of Material Connection: Some of the links in the post above are "affiliate links." This means if you click on the link and purchase the item, I will receive an affiliate commission. Regardless, I only recommend products or services I use personally and believe will add value to my readers. I am disclosing this in accordance with the Federal Trade Commission's 16 CFR, Part 255: "Guides Concerning the Use of Endorsements and Testimonials in Advertising."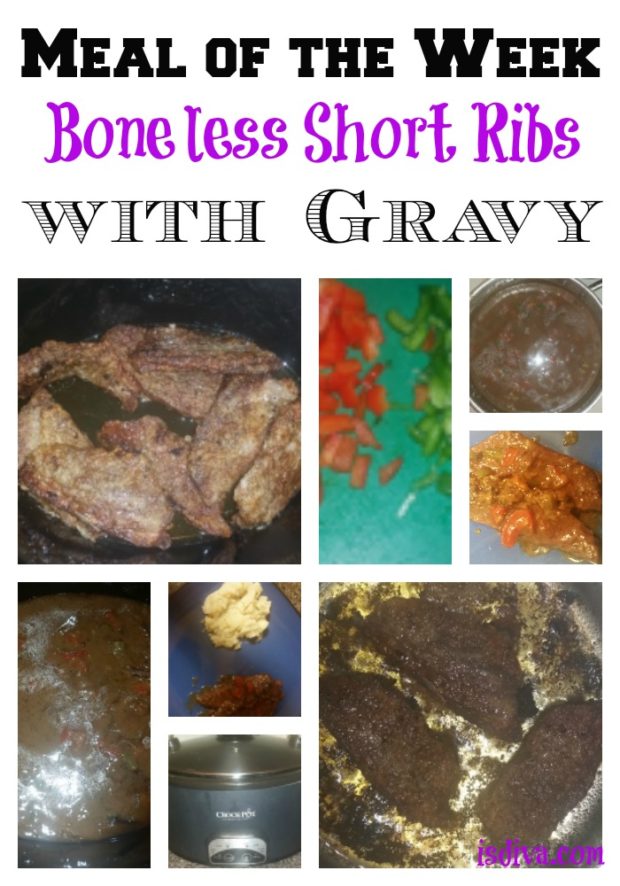 Well,
It's been about a month since I've last posted. Things have been hectic, but I finally did it – I moved! If you remember your last move, I'm sure you empathize with me. The
packing
wagging up and down stairs
hiring movers
working overtime to replace what you've spent out
eating take out daily
unpacking
trying to organize
Man, am I glad that's all over. While I do love my new place (for it to be an apartment) what I love more is finally being organized enough to make a home cooked meal!
Last Week's Lunch and Dinner Plans
It's been three weeks and last week I was finally able to make a full meal to last all week. I was so tired of eating take out, and it was getting to be too expensive. Last week's menu consisted of:
Pot roast
Baked chicken legs (hate legs, but got them on sale for $0.60 a pack)
BBQ rib tips
Mashed potatoes (from scratch)
Fried cabbage
Cornbread
This Week's Easy Lunch and Dinner Plan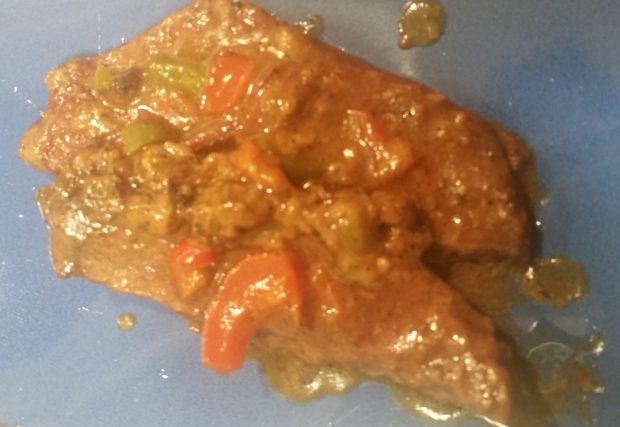 Now, today was my first lazy day. I've been working 6 days a week, and by golly, I was finally going to lay in my bed until I felt like getting up. I managed to get up at 1:30 pm and did a few loads of laundry. So instead of slaving over the stove, I peeped in my fridge and noticed I still had potatoes in there and some BBQ chicken I bought on Friday from Uncle Remus. I have some broccoli I still need to cook. So to get me through the week (for lunch and dinner) I decided to cook some boneless short ribs I got for $2.99/lb. the other week.
Boneless Short Ribs with Gravy are Easy to Make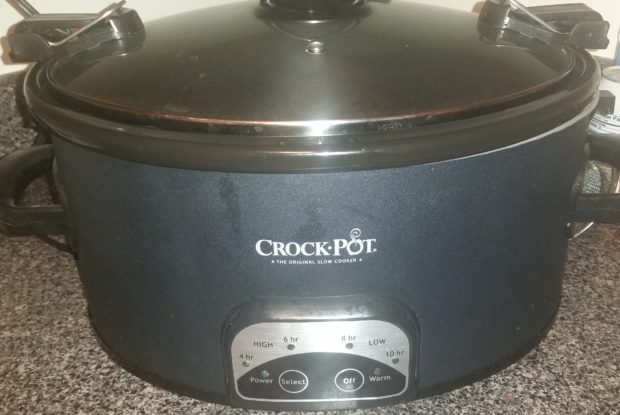 I wanted to cook the short ribs in some gravy. I started off by seasoning just with salt and pepper. Then I floured and fried them. Afterward, I put them in my crockpot. I love cooking in my crockpot. It's a set it and forget it moment! Crockpots allow you to walk away and go to bed while cooking. In the morning, your home is filled with yummy meat goodness. I'm only cooking the short ribs for about 4 hours because they are thin and should not take long to get tender.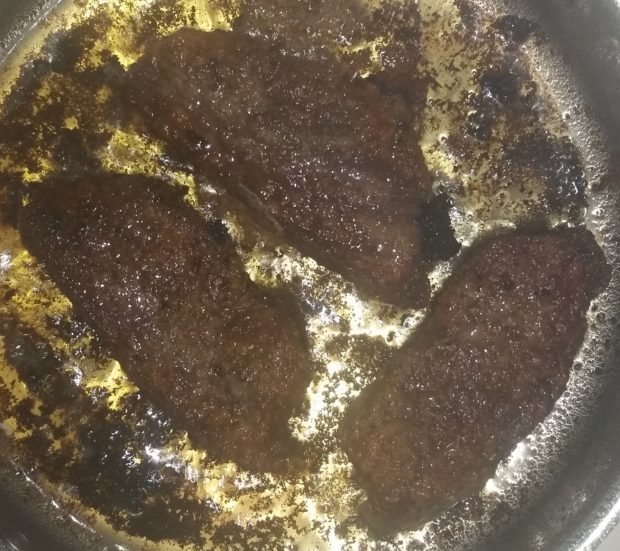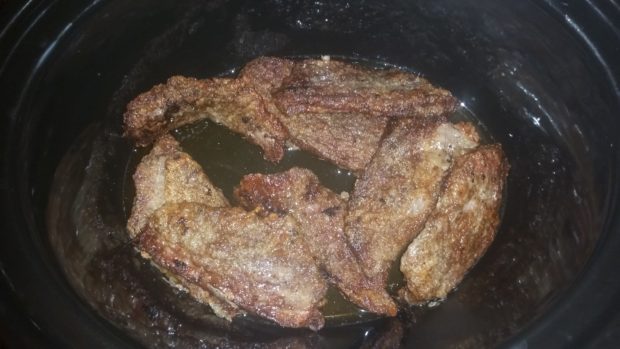 After I finished frying them and placing them in the pot, I then proceeded to make my gravy. I had enough grease left in there, so I added flour and let that brown well. If you aren't familiar with making gravy from scratch, you want to leave the grease and meat drippings in the pan. Then stir the flour around well. The darker the flour, the darker your gravy will turn out.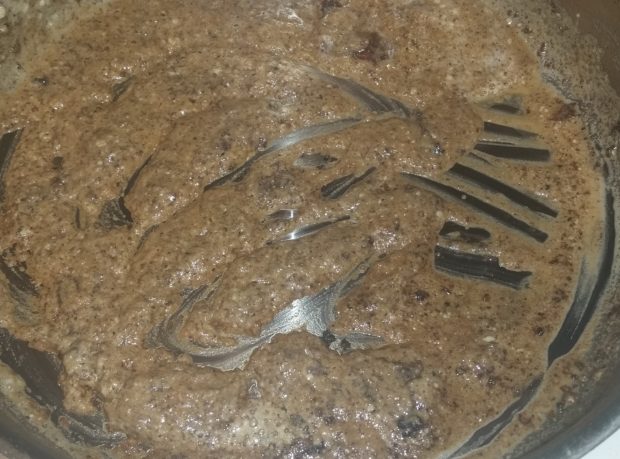 Then, add in water (about a cup and a half to get started). I know I'm going to make a lot of gravy so I kept adding.
Tip – If you add too much water and it's too runny, simply add a bit of cornstarch to about ¼ cup of cold water and add that to the gravy mixture. It'll turn it lighter, but it will thicken as it cooks.
Next, add in some chopped onions (I just have green onions which I love), green and red bell peppers. It's just the same if you have some frozen sliced ones on hand. Add more seasonings (salt, onion salt, and pepper for me) and let that cook down some. Since I'm adding it to the crockpot with my meat in a few hours, I don't need the veggies to get totally done yet.
I now just need to let that cool and add to a cup/jar until I'm ready to add it to the meat. If you do find you make entirely too much gravy, put it in a mason jar and keep for another meal during the week such as with chicken or even pork chops. You can also place it in a freezer bag and freeze.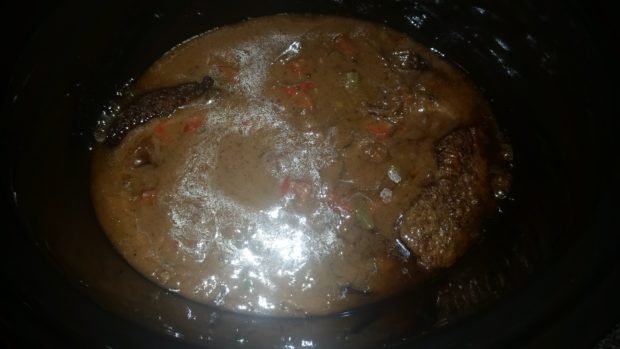 After about 3 hours, my meat seems tender enough, so I added the gravy and let it cook for the remaining hour.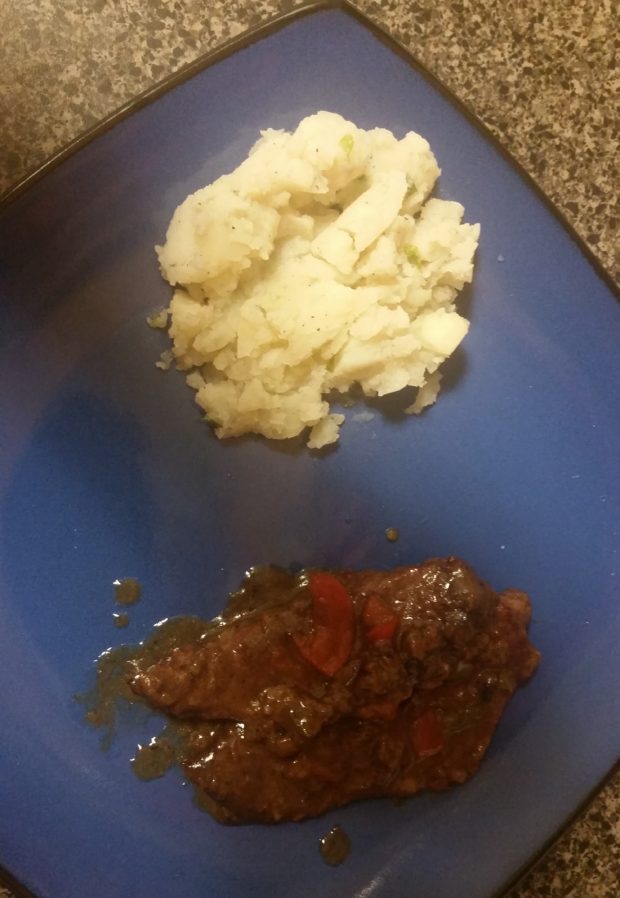 Boneless short ribs – cooked to perfection. Short ribs go well with a starch such as potatoes or rice. You can add veggies such as corn, broccoli, or of course cabbage!
Meal of the Week – Boneless Short Ribs with Gravy
Ingredients
2 lbs of boneless short ribs
salt to taste
pepper to taste
Cooking oil
flour
½ red bell pepper
½ green bell pepper
½ cup of chopped white onion or 2 stalks of green onion diced
onion salt to taste
Instructions
Pour just enough oil into the pan to fry the meat in. Let it get hot.
While the oil is getting hot, season meat with salt and pepper.
Coat with flour on both sides. I always season the flour with salt and pepper as well.
Fry the meat on both sides until browned. Place in the crockpot on 4-8 hours depending on the thickness of the meat.
After removing all the meat from the pan, make the gravy. Add more oil to the pan if not enough. Add in flour and stir.
Once you've browned the flour to your liking, pour in water until it's reached the desired amount and consistency.
Chop up the green onions and bell peppers. Add to the gravy mixture and simmer for 10 minutes.
During the last hour of your meat cooking in the crockpot, pour in the gravy and stir well.
http://isdiva.com/meal-of-the-week-boneless-short-ribs-with-gravy/
~ Independent, Smart, Diva! Like this post? Please share with your friends!