Disclosure of Material Connection: Some of the links in the post above are "affiliate links." This means if you click on the link and purchase the item, I will receive an affiliate commission. Regardless, I only recommend products or services I use personally and believe will add value to my readers. I am disclosing this in accordance with the Federal Trade Commission's 16 CFR, Part 255: "Guides Concerning the Use of Endorsements and Testimonials in Advertising."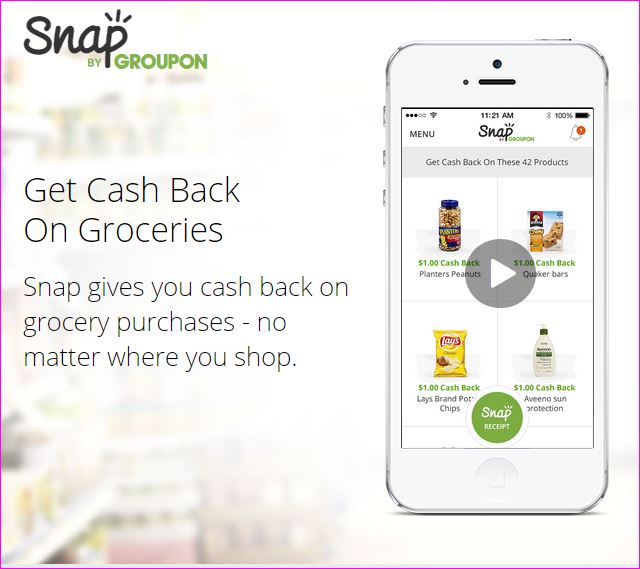 If you're using the Ibotta program to get a bit of cash back from grocery shopping, there is one more app to download to your list. Groupon recently launched their app – Snap by Groupon. I just found out about it myself the other day. So, Monday I just had to go grab my last minute sale items because I had a funny feeling Tuesday was going to be hectic.
So what are some savings you can expect to see?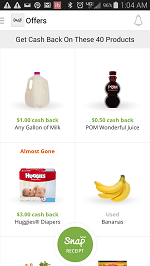 $1 cash back on any gallon of milk
$3 cash back on Huggies Diapers
$0.25 cash back on bananas
So enough talk… you want to see results, right? Well, I visited Jewel-Osco, Tony's Finer Foods, and Rio Valley Market. Of which, what do you know, bananas, lettuce, and apples were on my list.
Tonight, I simply added them to my grocery list, took a picture with my phone of the receipts, and bam, instant cash. Now of course they are going to verify my receipt, but the $1, hopefully, will be available soon.
Once you reach $20, you can redeem your cash, as of right now that's by check only. You can even refer your friends and earn cash when they redeem their offers.
So here's how you can get the Snap app:
Download the Snap app for iPhone or Android, or use the Snap website
Take a quick peep around before you shop, add your items to your grocery list
Print your coupons before you shop! Double up on the savings!
Purchase the promoted products at your local stores
Snap a pic of your receipt when you get home
Wait for the cash to ring in
Sign up for your Snap account now.
~ Independent, Smart, Diva! Like this post? Please share with your friends!