Disclosure of Material Connection: Some of the links in the post above are "affiliate links." This means if you click on the link and purchase the item, I will receive an affiliate commission. Regardless, I only recommend products or services I use personally and believe will add value to my readers. I am disclosing this in accordance with the Federal Trade Commission's 16 CFR, Part 255: "Guides Concerning the Use of Endorsements and Testimonials in Advertising."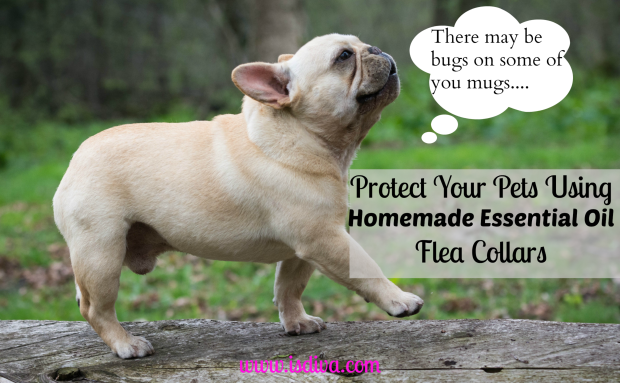 I don't often talk about pets here on ISDiva much, but not long ago I was talking to a friend about the baby coming soon. She was comparing how pets and babies seem one in the same, and she's right! You have to do everything for both! And they need so many basic, yet expensive items. She was just saying how a flea collar costs almost $50. While this works for about 6-8 months, what happen should you lose it? What if your pet is allergic?
A simple, and affordable solution is actually making your own flea collar at home. I use essential oils for many things, and many are safe for pets to use as well. Since it takes just a few drops of essential oil, one bottle can last over a year. Pet's such as cats and dogs both should be able to stand natures natural flea repellant, Cedarwood and Lavender Essential Oils. These two are perfect for not only creating your own flea collar, but refreshing shampoos and spray deodorizers for your pets also. And, just think, you can use these two essential oils throughout your home for so many other things such as:
Treat minor insect bites
Relieves symptoms associated with motion sickness
Heal dry skin
Treat bladder infections
Helps break up chest congestion
Prevent moths from gathering in your home
Homemade Essential Oil Flea Collar Recipe
Ingredients
Instructions
Add all the ingredients to a bowl.
Soak a soft collar in the solution until it absorbs.
Allow it to dry.
Repeat the process every month or once the smell has faded.
Pour the remainder into a spray bottle and use as an added protection for your pet daily.
http://isdiva.com/protect-your-pets-using-homemade-essential-oil-flea-collars/
~ Independent, Smart, Diva! Like this post? Please share with your friends!