Disclosure of Material Connection: Some of the links in the post above are "affiliate links." This means if you click on the link and purchase the item, I will receive an affiliate commission. Regardless, I only recommend products or services I use personally and believe will add value to my readers. I am disclosing this in accordance with the Federal Trade Commission's 16 CFR, Part 255: "Guides Concerning the Use of Endorsements and Testimonials in Advertising."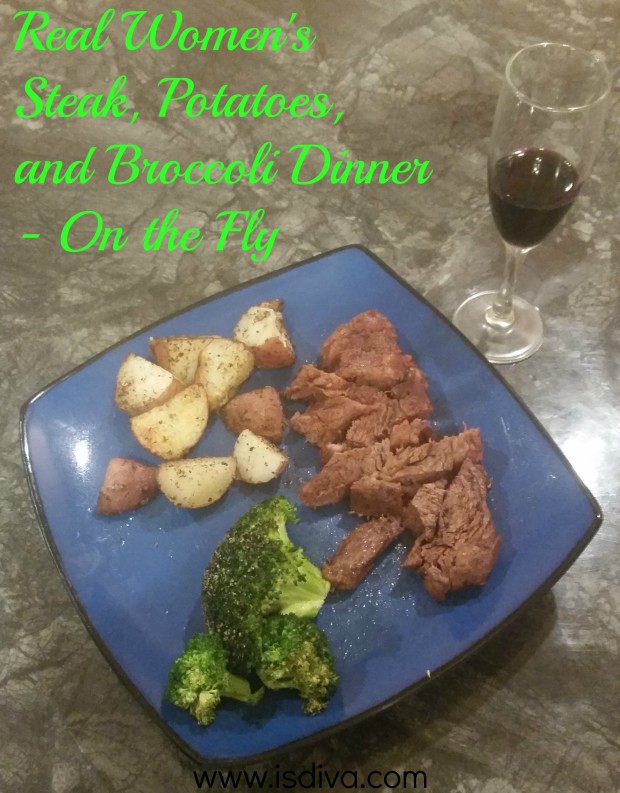 Now this weekend I was certainly busy. So much to do in so little time. Sometimes though you have to stop the busywork and take a me-time break. And, that's what I did Saturday night. The kids went to see their granny (and wash clothes), and I stayed back to work (and e kid-free). However, I realized about 9pm that the me-time needed to come out! So off I flew to Wal-Mart on a mission to have a real steak dinner!
Now, let me start by saying – I'm a lifestyle blogger – not a food blogger! So at the risk of getting my head chewed off by a few Pinterest happy blogging friends, I present to you a real steak dinner – ya know, how yours may actually turn out to look like. Enjoy! I know I did!
And ladies, if you want to impress a guy… Here ya go! I accept Thank You's in the form of check, money order, new SUV's with the title written over to me, and comments telling me how great dinner was 😉
This Saturday night meal took roughly an hour and a half. The entire meal consisted of steak, herb seasoned red potatoes, and seasoned broccoli crowns. And please don't forget the red wine.
So, turn your oven on 450 degrees and get ready for a delicious and easy meal.
Herb Seasoned Red Potatoes:
Rinse your potatoes off. Dice into quarters.
Place in a pot of boiling water. Allow to cook about 15 minutes or until you can just pierce it with a fork. You don't want the potatoes falling apart though.
Drain in a colander and place in a baking dish. Sprinkle with salt, pepper, onion salt, oregano, and basil. Mix the potatoes around a bit. Drizzle about ¼ cup olive oil. Mix again. Sprinkle about ½ teaspoon of rosemary across the top and place in the preheated oven.
Allow it to cook for 15-20 minutes to get browned and dry out the water it cooked in. I took mine out when I took the broccoli out which is cooked last).
Steak:
T-bone steak would be awesome for the recipe and so would a porterhouse. However, neither were at Wal-Mart (darn getting there too late at night). So instead I used boneless chuck eye and it was two in the pack. Still delish! I prepared this while the potatoes were boiling.
Place a frying pan on the stove over medium-high heat and allow it to get hot.
Place a generous amount of olive oil in the pan, enough to cover the bottom of the pan.
In the meantime, rinse the steaks off and pat dry. Sprinkle both sides with salt, pepper, onion salt, and steak seasoning (yes I know a heart attack waiting to happen, huh).
Place a separate baking pan in the oven with a bit under ½ cup of butter and allow to get hot. Once your butter has melted in the pan, place it on the stove to keep it warm.
Place your steaks in the frying pan, ensuring it's completely flat. It's time to get a nice sear. Turn on your oven fan if need be. Allow to sear for about 6 minutes (watch it so that it doesn't burn). Now, turn it over and allow it to sear for 3-4 minutes.
Place the steaks in the warmed pan with butter. Place in the oven for 10-15 minutes for a nice medium-well steak (light pink, not red).
Once it's to your liking, remove with tongs and place on a warm plate. Don't you dare pierce or cut that steak! You want the juices to return into the steak and to pierce it will make the juices flow out creating a dry steak. Let it sit for 8-10 minutes.
Broccoli Crowns:
Pour a small amount of olive oil in your hands and rub to spread the oil out. Grab each crown and rub the oil gently over all the broccoli crowns.
Place in a baking dish. Sprinkle with a bit of celery salt, table salt, and pepper. Set aside.
Once you remove the steak from the oven, place the broccoli in the oven to cook while the steak is resting. It should cook in the oven for 10 minute's I always turn on the broiler for the last 2 minutes to give it a nice crisp sear.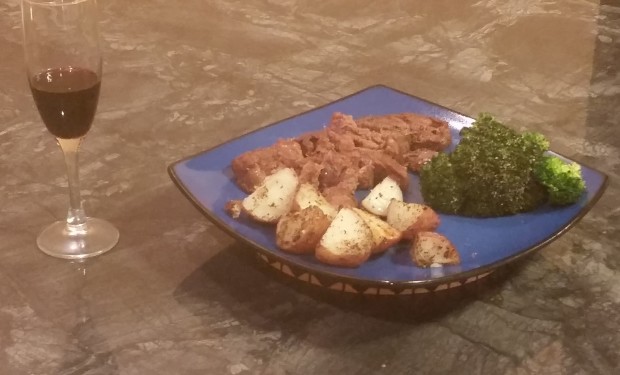 Now that dinner is over, and the dishes are done, I want you to pin this up to your Weekend Dinner Pinterest Board. What? You don't have one? Stick around to find out why you need one and how to get one up!
~ Independent, Smart, Diva! Like this post? Please share with your friends!