Disclosure of Material Connection: I have not received any compensation for writing this post. I have no material connection to the brands, products, or services that I have mentioned. I am disclosing this in accordance with the Federal Trade Commission's 16 CFR, Part 255: "Guides Concerning the Use of Endorsements and Testimonials in Advertising."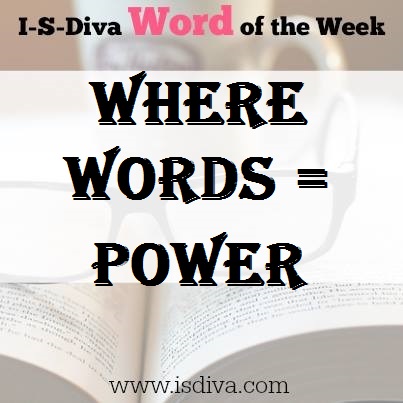 Welcome to I-S-DIVA and 2015! In case you are new to the blog, I typically post on my Facebook Fan Page every Monday I-S-Diva's word of the week. It all started, of course, with the post: How to Build a Damn Good Vocabulary in One Minute a Day. So today is my first post of the New Year, and I thought I'd just do a recap of all the words I presented in 2014.
Why I Present Word of the Week
Words are powerful. Sometimes, you just don't have time to read as much as you'd like. And even when you do, you may be so engaged or busy that you don't take the time to journal and keep track of new words learned. You may want to impress friends, someone new you are dating, or just empower yourself. Whatever the reason may be, someone giving you a new word to learn and expand your vocabulary is a hell of a lot easier than trying to keep track.
2014's Word of the Week Roundup
 Which word was totally new to you and
have you been using it since?
~ Independent, Smart, Diva! Like this post? Please share with your friends!