Disclosure of Material Connection: Some of the links in the post above are "affiliate links." This means if you click on the link and purchase the item, I will receive an affiliate commission. Regardless, I only recommend products or services I use personally and believe will add value to my readers. I am disclosing this in accordance with the Federal Trade Commission's 16 CFR, Part 255: "Guides Concerning the Use of Endorsements and Testimonials in Advertising."
Hey there all.
I decided to get back into reading, so I just picked up Real Money Answers for Every Woman by Patrice Washington. I went on an awesome day-away retreat to EagleWood Resort & Spa (I'll have to tell you all about it later) and took this book with me.
Business Insider points out that: 11% of rich people read for entertainment, compared to 79% of poor. Hold on, let me switch that around in case you didn't catch that … 79% of us would rather read an entertaining book or blog post than read what wealthy people read …. Food for thought.
Now I realize this book has been out for a while, but it's new to me! I definitely recommend that every woman no matter what phase of your life you are in, to read this. I'm not a book blogger, so no in-depth analysis here. This is a very conversational book, like sitting down with a girlfriend who can tell you how it is!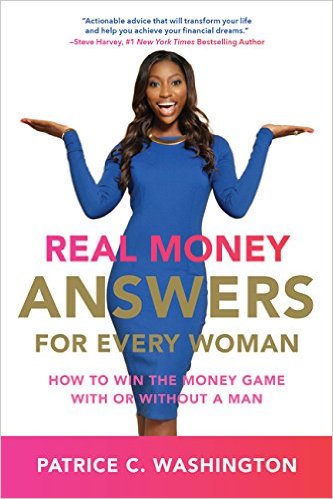 A few takeaways from this book I admire:
You must create wealthy habits
Create an opportunity fund rather than an emergency fund
Change the way you think about money (Insert a Mary Jane affirmation here)
Know your worth (value)
Plan your success at work (prepare for your career change or salary negotiation)
Know what's stopping you from hustling and how to get around that
If you can't manage your household finances, how can you manage your own business?
How to save six months of income – painlessly
Managing finances and having those conversations with your significant other
Now if Warren Buffet can do 80% of reading still to this day, can't you take 10-30% of your day to read?
Check out the video and let me know your thoughts or if you've read this book before. Below I have links to other helpful career/finance books and blogs as well.
In the video, I talk about a few books and blogs you should check out:
Blogs:
DailyWorth.com
FinanciallyWiseWomen.com
GetRichSlowly.org
LeavInvest.com
TheSimpleDollar.com
RealMoneyAnswers.com
TheBudgetnista.com
TheKrazyCouponLady.com
Consumerist.com
MoneyTalksNews.com
MoneySavingMom.com
WiseBread.com
Books:
The Intelligent Investor
Common Stocks and Uncommon Profits
Business Adventures: Twelve Classic Tales From the World of Wall Street
The Great Gatsby
I Know Why The Caged Bird Sings
How To Win Friends And Influence People:
Secrets of the Millionaire Mind
Think and Grow Rich
The Automatic Millionaire
Rich Dad Poor Dad
The Little Book of Common Sense Investing
Influence: The Psychology of Persuasion
A Purse Of Your Own
Girl, Get Your Money Straight
Smart Women Finish Rich
Prince Charming Isn't Coming
The Millionaire Next Door
The Up Side of Down: Why Failing Well Is the Key to Success
How to be a Productivity Ninja: Worry Less, Achieve More and Love What You Do
Springboard: Launching Your Personal Search for Success
Get the book:
~ Independent, Smart, Diva! Like this post? Please share with your friends!