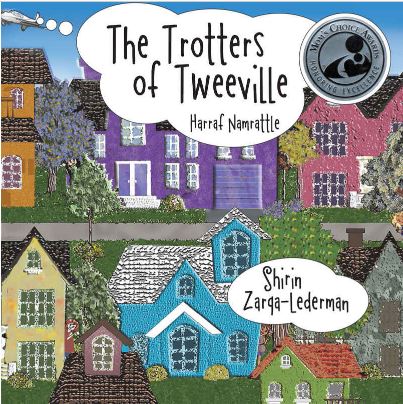 Teach your child the value of kindness and how to consider other's feelings with this newly released book –  The Trotters of Tweeville: Harraf Namrattle by Author Shirin Zarqa-Lederman.
Harraf Namrattle lives in Tweeville and is a girl who always says what she thinks—no matter what! She doesn't seem to understand that sometimes words can hurt others' feelings and that some things are better left unsaid. Today, however, Harraf's mother reminds her to think before she speaks.

Harraf sets out to play baseball with her friend Bo, who has a new baseball mitt. What will she say when she sees it? Then she meets her friend Hennaj, who has a lemonade stand. What will she say when she tries the lemonade? When she sees another friend drawing on the sidewalk, will she take her mother's advice and be nice? Can Harraf Namrattle learn to think before she speaks and to be kind to the people in Tweeville?
Such an enjoyable book you can enjoy with your children. Grab The Trotters of Tweeville: Harraf Namrattle today via Amazon Kindle at the current low price of $3.99 or the paperback version for only $15.29
Please remember that Amazon pricing may change at any time.
~ Independent, Smart, Diva! Like this post? Please share with your friends!
Disclosure of Material Connection: Some of the links in the post above are "affiliate links." This means if you click on the link and purchase the item, I will receive an affiliate commission. Regardless, I only recommend products or services I use personally and believe will add value to my readers. I am disclosing this in accordance with the Federal Trade Commission's 16 CFR, Part 255: "Guides Concerning the Use of Endorsements and Testimonials in Advertising."