Disclosure of Material Connection: Some of the links in the post above are "affiliate links." This means if you click on the link and purchase the item, I will receive an affiliate commission. Regardless, I only recommend products or services I use personally and believe will add value to my readers. I am disclosing this in accordance with the Federal Trade Commission's 16 CFR, Part 255: "Guides Concerning the Use of Endorsements and Testimonials in Advertising."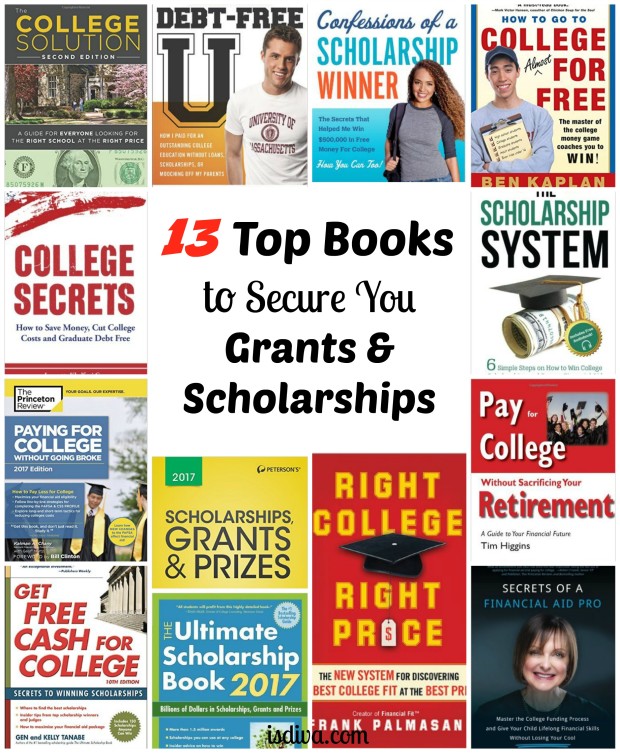 As an admissions advisor and prior financial aid advisor, I hear every day students asking how they are going to pay for college. From grandparents, to parents, to the students themselves, they are afraid of student loans, and should be. There is hope though as you can find grants and scholarships that are available for people like yourself. It doesn't matter your career path or reasoning for wanting to get your degree – the free help is out there should you do the leg work to get it. Here is a listing of the top 13 books to secure you grants and scholarships. Most of these books are under $20, and the investment is totally worth it.
1. Confessions of a Scholarship Winner: The Secrets That Helped Me Win $500,000 in Free Money for College- How You Can Too! by Kristina Ellis
This book is first on the list as I know this is many of your typical situation. Giving the real world experience of Kristina Ellis, she details how she went from having two parents to one single mom who could not support her dreams of going to college. Kristina was just an average student, definitely not a scholar, who didn't have the best grades nor test scores. So she had to find a way to generate enough money to cover college expenses at one of the top 20 university's in the United States.
Kristina details how she won $500,000 to cover her college expenses through her doctorates program in her book Confessions of a Scholarship Winner. You'll find out how to highlight your strengths, impress the scholarship review board, and find the best undergraduate scholarships for your situation. Confessions of a Scholarship Winner is endorsed by Curt Jones, Founder CEO, Dippin' Dots Ice Cream, Dr. Thomas Burns, Provost, Belmont University, and Rebecca Kochenderfer, Senior Editor and Co-Founder, Homeschool.com, Inc.
2. The Ultimate Scholarship Book 2017: Billions of Dollars in Scholarships, Grants and Prizes by Gen Tanabe and Kelly Tanabe
This book lists over 1.5 million directories you can go to for billions of dollars in prizes, grants for students, and scholarships organized by your major, talent, religion, ethnicity, career goals, and more. Scholarships vary from high school students, college students, graduates, and adult learners. You'll also learn how to watch out for scams. The Ultimate Scholarship Book 2017 details all the information you'll need to complete the scholarship applications process, view award amounts, and more.  This is a must for students and parents.
3. How to Go to College Almost for Free by Ben Kaplan
Ben Kaplan also lists his personal experience in paying for his college education in his book, How to Go to College Almost for Free. Ben gives you his proven step by step plan that gets you free money for college no matter your GPA or family background. You'll also receive access to his scholarship finder website that contains bonus materials to other resources.
4. Paying for College Without Going Broke by Princeton Review and Kalman Chany
Paying for College Without Going Broke is your source for all things Federal Financial Aid related. With up to date information on how to complete the FAFSA application (which determines your eligibility for the Pell Grant), there is no need to pay for someone to do it for you! You can calculate the costs of your college education, learn how to compare financial aid offers, file for a financial aid appeal, understand the differences and know how to apply as independent or dependent students, and more. Paying for College Without Going Broke was seen in and praised by the Wall Street Journal, Chicago Tribune, USA Today, Forbes, and the Los Angeles Times.

5. Get Free Cash for College: Secrets to Winning Scholarships by Gen Tanabe and Kelly Tanabe
The most important phrase of the college process is free money! In Get Free Cash for College, you'll learn how to get a scholarship, the proven tips and strategies to find scholarships, and receive the best scholarship for yourself. You'll get insights into actual scholarship judges and what they are looking for when selecting scholarship winners. This directory has 150 of the top free scholarships worth over $100 million in prizes.
6. Scholarships, Grants & Prizes 2017 21st Edition by Peterson's
Get Scholarships, Grants & Prizes in your cart today as it is set to be released on July 26, 2016. Scholarships, Grants & Prizes, is the latest financial aid release by Peterson's that is going to give you all the privately funded college award information based on employment, ethnic heritage, career goals and more. Think outside of the box and seek out funding from corporations, and civic organizations. There are many articles regarding essays, how to use social media to get awards, and an easy to use index to find your student grants.
7. The Scholarship System: 6 Simple Steps on How to Win Scholarships and Financial Aid by Jocelyn Marie Paonita
Jocelyn Marie Paonita explains how she won over $125,000 in scholarship and grant money for her college education. She even racked in money for living expenses at the end of each semester. The Scholarship System is easy to follow, and you'll find it benefits you during your college duration and afterward than getting a part-time job to help out financially.
8. Debt-Free U: How I Paid for an Outstanding College Education Without Loans, Scholarships, or Mooching off My Parents by Zac Bissonnette
The Debt-Free U: How I Paid for an Outstanding College Education claims you can save over $100,000 in your educational expenses. Zac Bissonnette teaches you how to avoid student loans. He also points out that students do not need to go to an elite bachelor's degree program just to get into an elite graduate program, which also helps save on the cost of education.
9. Right College, Right Price: The New System for Discovering the Best College Fit at the Best Price by Frank Palmasani
If the looming question in your mind is how you will afford a college education for yourself, child, or grandchild, you must read Right College, Right Price. Options do exist, and this book leads you to those options. This book helps you understand what the true costs of college will be after all financial aid options are applied before you even sign up for school.
10. The College Solution: A Guide for Everyone Looking for the Right School at the Right Price by Lynn O'Shaughnessy
This is a second edition of the bestseller, The College Solution, which has 90% updated material to help those go through the college process. You'll learn financial aid secrets, differences between colleges and universities, and understand education institutions ranking process.
11. Secrets of a Financial Aid Pro: Master the College Funding Process and Give Your Child Lifelong Financial Skills Without Losing Your Cool by Jodi Okun
Jodi Okun takes on a different twist to looking at financial aid with her witty humor but insight into how to cover your college education expenses. Jodi has her own consulting business, College Financial Aid Advisors, and has successfully guided families through finding financial aid for school. In Secrets of a Financial Aid Pro, you'll find out how you can apply for all types of financial aid including free grant money, loans, and scholarships. There are a variety of scholarships including scholarships for women, federal grants, graduate school scholarships, nursing scholarships, and more.
12. College Secrets: How to Save Money, Cut College Costs and Graduate Debt Free by Lynnette Khalfani-Cox
This is a dream of all – how to graduate from college debt free. In College Secrets, you'll learn about the hidden costs of college and how to slash tuition costs regardless if you are in or out of state – so there are plenty of state grants available. You'll learn about room and board expenses, methods to save on books and supplies, and how to avoid credit card debt. You'll find out the proven methods to win college scholarships as well. This book is full of secrets and now they are revealed to you.
13. Pay for College Without Sacrificing Your Retirement: A Guide to Your Financial Future by Tim Higgins
Are you looking for a way to go back to school without sacrificing your retirement? Well, it's time to pick up Pay for College Without Sacrificing Your Retirement. It's not just for adult learners, though. This guide will teach you how to create a financial aid plan that will keep you out of debt.


~ Independent, Smart, Diva! Like this post? Please share with your friends!