Disclosure of Material Connection: Some of the links in the post above are "affiliate links." This means if you click on the link and purchase the item, I will receive an affiliate commission. Regardless, I only recommend products or services I use personally and believe will add value to my readers. I am disclosing this in accordance with the Federal Trade Commission's 16 CFR, Part 255: "Guides Concerning the Use of Endorsements and Testimonials in Advertising."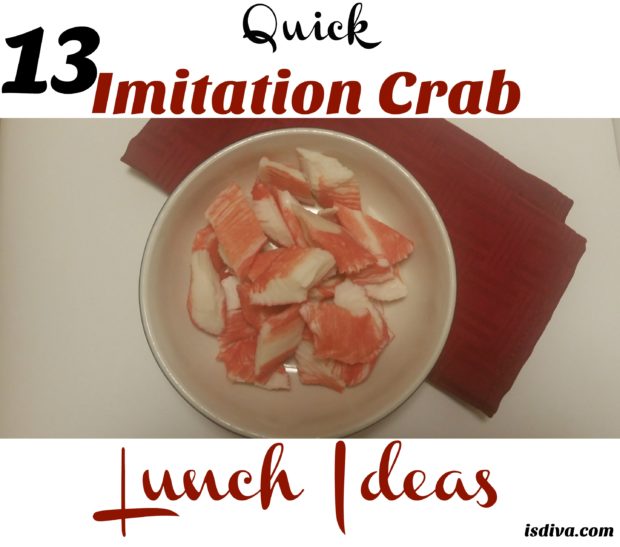 As you know, I'm all about convenience and saving money. I recently bought a pack of imitation crabmeat to add to my left over salad. So the salad is gone and now I'm stuck with a half-eaten pack of imitation crab meat. So after browsing around my absolute favorite website Pinterest, I came across these 13 quick and easy imitation crab recipes. These are perfect to make ahead for your lunches!
What's really nice about these recipes is that most of these ingredients may be things you already have in your cabinets and fridge. And many of the ingredients are inexpensive as well, such as mayo, pasta, and eggs (Amen for the decrease in prices lately).
Cook up plain or flavored angel hair boxed pasta and add in a few key ingredients. This really should not take more than 15 minutes.
If you love sushi, this is a great way to have it as often as you like without rolling or special wrappers!
This is so much cheaper and tastier than buying a pre-made pasta salad at the grocery store.
I love grilled cheese and have recently been trying out variations of gourmet grilled cheese recipes. This crab grilled cheese recipe is a must try!
If you enjoy a good old fashion Po' Boy sandwich, you'd be amazed at how easy this is to make. The Hungry Hoarder labels this as "Poor" Man's because imitation crab is perfectly okay as a substitution for the real thing!
This recipe combines a flaky croissant with a yummy imitation crabmeat mixture. This simple sandwich that takes minutes to make for a quick and easy lunch.
As winter approaches, you'll appreciate this quick and easy soup. It's only a few ingredients but packed full of flavor.
Ginny adapted this from a recipe she found on Pinterest herself! So try this out for yourself if you're tired of traditional Lettuce Wraps.
It looks like a lot of ingredients, but I promise this is similar to your traditional quesadilla recipe. Get your salsa ready for a treat!
I'm quite sure you've had Lobster Mac and Cheese before. Give this adaptation a shot. Your kids will flip over this as well.
Now this is a bit more complex than the Simple Crab Soup. But what else could you expect from a thick and hearty bisque? Just prep this the night before and enjoy with a crusty bread for lunch and dinner this week.
I hate letting food spoil. It happens so often to me because I buy up food on sale. If you need to get rid of left over imitation crab and tomatoes, here is an excellent recipe.
These are like mini-burritos! You can pair this with a veggie such as carrots and have a hearty lunch.
What recipe are you dying to try out?
~ Independent, Smart, Diva! Like this post? Please share with your friends!