Disclosure of Material Connection: I have not received any compensation for writing this post. I have no material connection to the brands, products, or services that I have mentioned. I am disclosing this in accordance with the Federal Trade Commission's 16 CFR, Part 255: "Guides Concerning the Use of Endorsements and Testimonials in Advertising."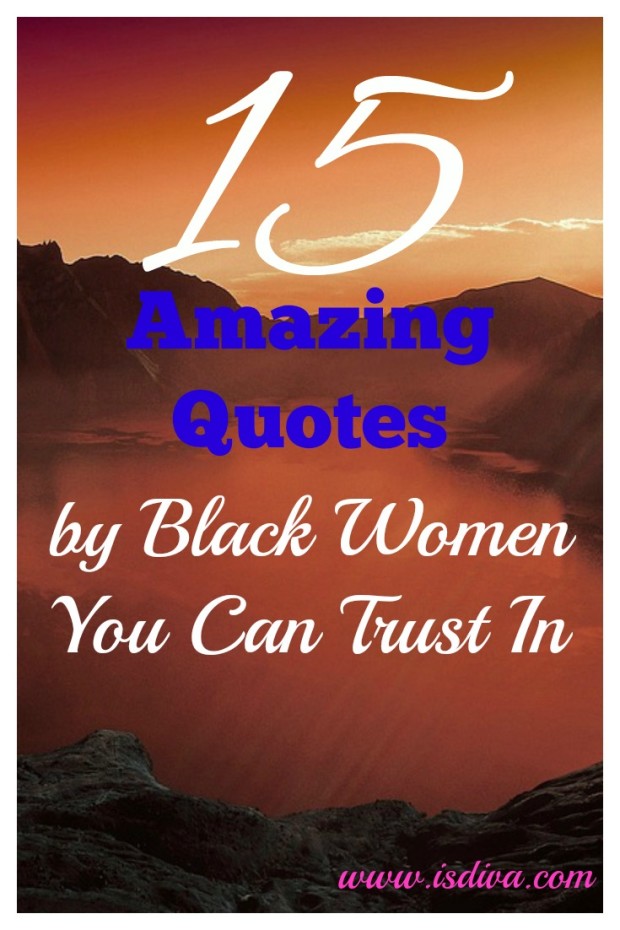 Every woman should have another female they can go and talk to – no matter the age. For me, it's my mom and best friend. My mom, of course, is wise, but far from kind. She's going to tell it like it is, no matter how it makes me feel. And sometimes, that's ok because it's exactly what I need.
At other times, I'll turn to my best friend (sometimes right after or before my mom) and she gives good advice too and doesn't sugarcoat it. It's just different because I psych myself into thinking only she knows exactly what I'm going through or how I feel.
However, I must remember, my mom was once young too, and obviously must remember the situation if she's giving me the great advice that she is.
Now there are some times where I just sit back and marinate by myself, but turning to quotes from strong, black women are one of my go-to's. Here are fifteen amazing quotes by black women you can trust in.
In my mind, I see a line. And over that line, I see green fields, and lovely flowers and beautiful white women with their arms stretched out to me over that line. But I can't seem to get there no how. I can't seem to get over that line. ~ Harriet Tubman

What God intended for you goes far beyond anything you can imagine. ~ Oprah Winfrey

Don't feel entitled to anything you didn't sweat and struggle for. ~ Marian Wright Edelman

Give light and people will find the way. ~ Ella Baker

Never give up on your dream…because you never know what the Lord can bless you with. ~ Kelly Rowland

All great achievements require time. ~ Maya Angelou

Keep working hard and you can get anything that you want. If God gave you the talent, you should go for it. But, don't think it's going to be easy. It's hard! ~ Aaliyah

Greatness is not measured by what a man or woman accomplishes, but by the opposition he or she has overcome to reach his goals. ~ Dorothy Height

Being strong can be also I don't think feminine equals being weak. Being strong is very sexy. ~ Sanaa Lathan

We all have to let go of the Prince Charming complex and realize he doesn't necessarily exist in the package we assume he'll come in. ~ Gabrielle Union

If there is a book that you want to read, but it hasn't been written yet, you must be the one to write it. ~ Toni Morrison

Don't be afraid to feel as angry or as loving as you can, because when you feel nothing, it's just death. ~ Lena Horne

Never be afraid to sit awhile and think. ~ Lorraine Hansberry

The kind of beauty I want most is the hard-to-get kind that comes from within – strength, courage, dignity. ~ Ruby Dee

It's not the load that breaks you down; it's the way you carry it. ~ Lena Horne
~ Independent, Smart, Diva! Like this post? Please share with your friends!