Disclosure of Material Connection: Some of the links in the post above are "affiliate links." This means if you click on the link and purchase the item, I will receive an affiliate commission. Regardless, I only recommend products or services I use personally and believe will add value to my readers. I am disclosing this in accordance with the Federal Trade Commission's 16 CFR, Part 255: "Guides Concerning the Use of Endorsements and Testimonials in Advertising."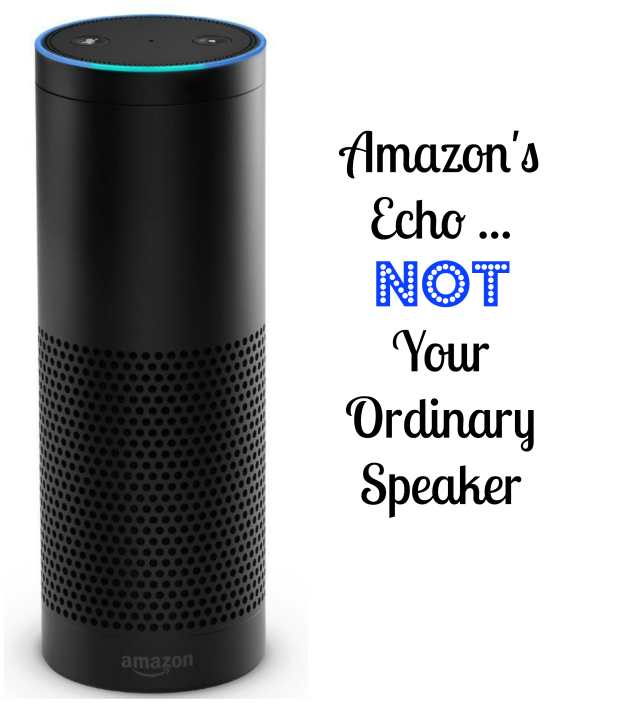 Amazon recently rolled out a brand new product called the Amazon Echo
which is basically a small, hands-free computer equipped with an always-on microphone and 360 degree speakers that can fill an entire room with high quality sound. At first glance, it may seem like a simple speaker system with a few extra bells and whistles, but it is actually so much more than that! A wealth of features in a convenient to use format can make the Amazon Echo even more useful than your own personal assistant.
Information
Thanks to an integrated artificial intelligence program called Alexa, the Amazon Echo can tell you anything you may need to know. It's carefully designed microphone can hear you from anywhere in the room, so feel free to ask about teaspoon to tablespoon conversions while you're baking or the chance of rain just before you head out the door in the morning. Anything you may ask a person or type into google for a quick answer can be answered effortlessly by Alexa. She can even tell jokes!
Organization
Add items to your to do list, make notes for yourself, or order common items through your Prime account with simple voice commands, and access those lists later through any device! Alexa can help you manage your grocery list or your weekly calendar, and all the lists you make can be easily accessed through the companion app whenever you need to access them– of course, you could always just ask Alexa!
Lifestyle
Amazon Echo can make life simpler for users in a variety of ways. You can set daily alarms and have a predetermined news source play as you dress, set timers so that you never forget to take dinner out of the oven, and even find out what the traffic is going to be like before you leave the house.
While you eat breakfast, Alexa can let you know what's on your calendar for the day or read to you from your current Audible audiobook. Echo also works with devices like smart light switches and thermostats to turn lights on and off, switch on the space heater before you get out of bed, and control your environment without lifting a finger. The companion app means you can even control your air conditioning, lights, and other devices while you're away from home, so you won't ever have to worry about what you may have left on before taking a trip.
In short, Amazon Echo is so much more than a sophisticated speaker. At the price of a mid range sound system you get a personal assistant, a homework helper, a house sitter, and so much more all rolled into one small, attractive solution for the home. This is a great new innovation from Amazon that can revolutionize the way people live, learn, and organize their lives. It would be well worth the cost at double the price! If you're on the fence about investing in the Amazon Echo, trust me, you will not regret doing it.


~ Independent, Smart, Diva! Like this post? Please share with your friends!