Disclosure of Material Connection: I have not received any compensation for writing this post. I have no material connection to the brands, products, or services that I have mentioned. I am disclosing this in accordance with the Federal Trade Commission's 16 CFR, Part 255: "Guides Concerning the Use of Endorsements and Testimonials in Advertising."
Hello, my name is Taya, and I'm a Dunkin Donut's Addict. I swear I should start each morning off saying this because this is what my typical work days are like. I must have my
Hot medium hazelnut, extra cream, extra sugar
The ladies at the Dunkin Donuts by my job have this down pat! I walk through the door, and they announce my order. Sometimes I take them by surprise and order a large coffee instead, or add hash browns (my favorite) or a donut, but for the most part…give me my coffee.
Now there have been days I really pushed it for clocking in late for work just so I can get my Dunkin Donuts coffee. Why do I need it so? I don't drink it on my days off. When I used to work full-time from home, I did have occasions where I'd leave home to get it. A few reasons you may drink coffee include:
Needing that caffeine boost, although once your high is off, you are done for!
Being a hot drink, it aids in digestion and burns calories!
It has antioxidants
It's a stress reducer
It just tastes great

The New Dunkin Donuts Application
How many days have you gotten up running late for work and missed getting your coffee? Well, Dunkin Donuts must have heard our cry because they do have a new DD app.
The new Dunkin Donuts application gives you the same great perks such as viewing your points balance, adding money to your account, getting exclusive Dunkin Donuts coupons and offers, and paying with their app. However, the new app also allows you to find the closest Dunkin Donuts to you and order using their On-The-Go Ordering! Yes, you can walk in and skip the lines folks!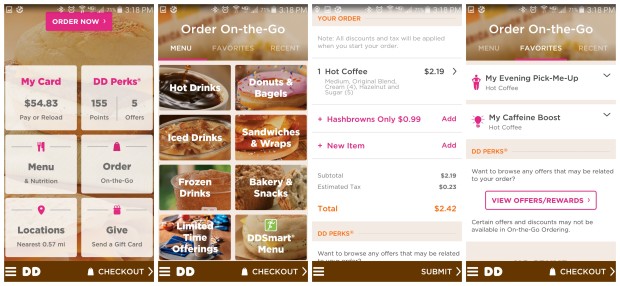 Here's how it works.
Download the new Dunkin Donuts Application
Sign in with your prior login info (or create an account)
Select the Order button
Pick a Dunkin Donuts location and press continue
Select your items from the Dunkin Donuts menu of Hot Drinks, Donuts & Bagels, Iced Drinks, Bakery & Snacks, to name a few.
Select add to order. From there you can continue to add more items or check out. You can even add items to your favorites list.
Verify your orders location, (add on any items), view your offers/rewards to use, and select your payment option.
Once you submit, you then have the option of picking the item up at a particular time or ready for pick up now.
So when you pick up your items, they should be right at the pickup counter. I can walk in and totally skip the wait! This is perfect for me.
The Dunkin Donuts Coupons and Perks
Now the reason I got the Dunkin Donut's app in the first place is because I love the perks. Again, I have a cup of coffee daily, so my points do add up. In a given month, I've earned enough points for two or three free cups. I save those for the extra-long days when I need a large cup! Why pay for it when I can get it free?
This is also handy to have in case you don't have cash on hand or have already met your monthly spending budget and just want to give yourself a treat.
Do you have the Dunkin Donut's app and use the On-The-Go ordering feature? How do you like it?
~ Independent, Smart, Diva! Like this post? Please share with your friends!