Disclosure of Material Connection: This is a "sponsored post." The company who sponsored it compensated me via a cash payment, gift, or something else of value to write it. Regardless, I only recommend products or services I use personally and believe will be good for my readers. I am disclosing this in accordance with the Federal Trade Commission's 16 CFR, Part 255: "Guides Concerning the Use of Endorsements and Testimonials in Advertising."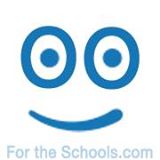 As you know, I have two teens in high school. So I have years of experience with the bake sales, candy sales, taffy apple sales, and a host of others to raise money for my kid's school. Don't get me wrong, I love supporting, but sometimes, it's a race to the finish with other parents selling the same thing! I was fortunate enough to run across an excellent fundraising program called For the Schools.
What is For the Schools?
For the Schools is a fundraising program allowing parents, family, and friends to shop online and get cash back from over 1000 stores! We'll all be shopping online for Cyber Monday, so why not earn cash back and help the schools?
There are over 130,000 schools that For the Schools supports. You can even designate which club or organization the money should go towards, making it easy to reach PTA, dance, and sports team's goals.
Receive cash back and discounts to stores such as:
Best Buy
Walmart
Kohl's
Old Navy
Overstock.com
Macy's
Home Depot
Allstate
Verizon
Advanced Auto Parts, and many others!
Why I Love It
I love For the Schools because it was so easy to set up, and I earn cash back. It's helping fund my children's school making other great programs and learning tools accessible. With enough support, surely their fundraising goals can be lowered for everyone. I'm sure we all would love that! I do use other programs for cash back that goes towards their college funds, but it's nice to have the option to help out now as well.
Sign up and support your child, niece, nephew, godchildren, or grandchildren's school today!
~ Independent, Smart, Diva! Like this post? Please share with your friends!