Disclosure of Material Connection: I received one or more of the products or services mentioned above for free in the hope that I would mention it on my blog. Regardless, I only recommend products or services I use personally and believe will be good for my readers. I am disclosing this in accordance with the Federal Trade Commission's 16 CFR, Part 255: "Guides Concerning the Use of Endorsements and Testimonials in Advertising."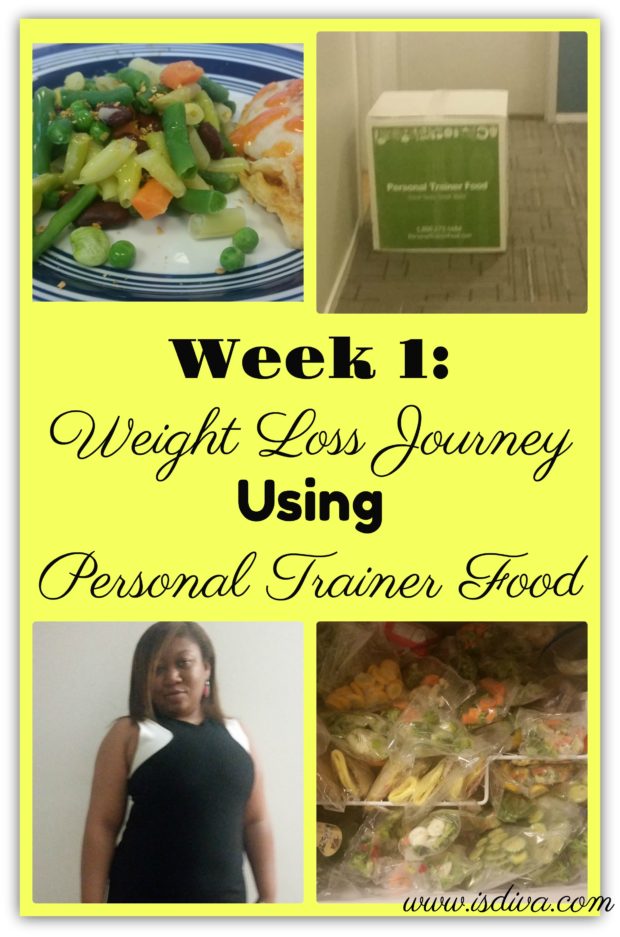 So today I'm introducing you to the Personal Trainer Food program. I've been on this health kick and weight loss journey for a while, ok, since January 2016 and have not made much progress. I've done a few lifestyle changes, such as you'll see in my 5 Easy Ways to Keep Up Healthy Habits at Work post. From dieting to exercising, it's just not working. I sit at work all day on the phones and doing computer work. As I do get up during the day often, it's not like a real workout.
I cut back on eating unhealthy foods during the week (bye bye beef and fried foods) because, during the weekend, the Beau and I had to hit our favorite restaurants and bars. It's summertime, so who can turn down a great view of Downtown Chicago on the rooftops while sipping Cranberry juice and Vodka with a hint of mint leaves?
For a while I've been going to the gym where I live, doing great with some morning routines and night. But literally, I thought I was doing something with my one-hour treadmill routine (who was I kidding?). That even started to dwindle away should I have a headache, worked long hours, or started my cycle. And then I had the audacity to start studying hard for my broker's license. Something had to give.
Then, I was offered the opportunity to try Personal Trainer Food.
What is Personal Trainer Food?
You can go directly to their website to read all about how Personal Trainer Food or PTF is a 28-day healthy, weight loss meal plan. In my terms, it's a way to train yourself to eat food in a healthy manner for a lifestyle change. The plan is not meant to say, "This is all you can eat" but "This is how you should eat".
What Do You Get with the Personal Trainer Food Program?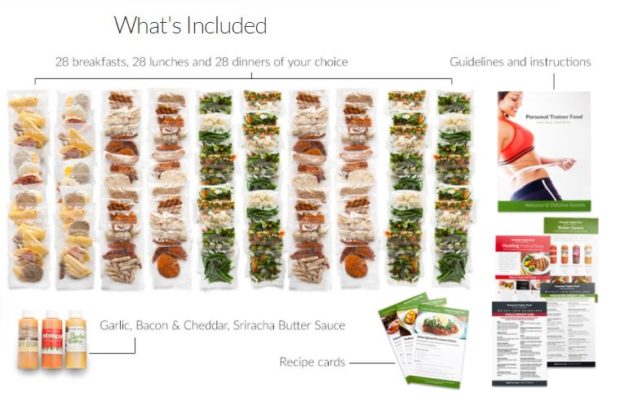 The PTF program is a meal delivery program bringing right to your door the meals of your choice. So you have options of breakfast, lunch, and dinner. For example, the 3 Meals a Day Plan consists of 28 days of:
Breakfast: 1 Breakfast
Lunch and Dinner Each: 1 Meat and 1 Vegetable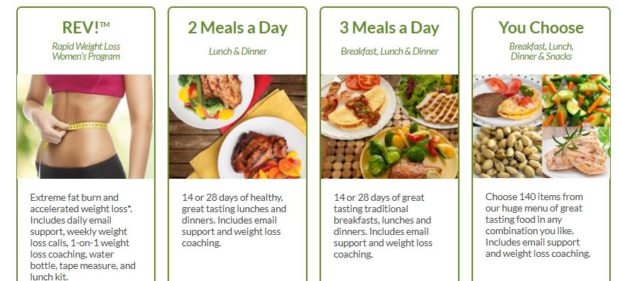 Delicious Meats to Enjoy
The food has delicious options such as Teriyaki Chicken, Meatballs, Apple and Gouda Juicy Sausage, Peppered Chicken, and Santa Fe Veggie Burger.
Delicious Veggies to Enjoy
Scandinavian Blend, Seasons Mix, Brussels Sprouts, Lima Beans, Cauliflower Florets, and Greca Zucchini are already pre-cut and ready to enjoy.
The Breakfasts options are also SO good
Cheddar Omelet + Maple Sausage, Cheddar Omelet + Chicken Sausage, and Frittata + 2 Bacon.
These food options are just a few listed. There are tons of variations available.
What's Best About this Program?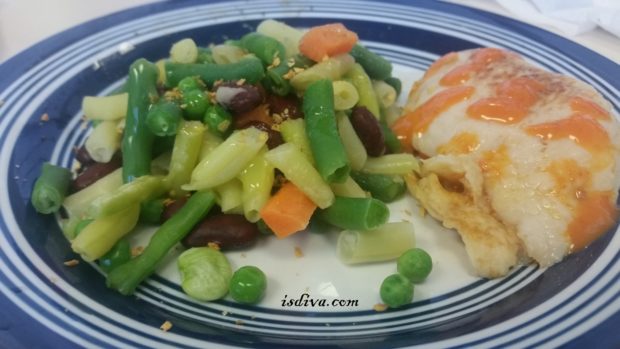 What I really like about the Personal Trainer Food program is that the foods are pre-cooked. I can have my food from microwave to eat in 3 minutes or less. It's perfect for my busy life now and all I may need to do is grab some condiments while flying out the door for work. We only need to work out for 20 minutes a day and that workout is simple – walking!
Above you'll see a lunch I prepared, Omaha Blend veggies and the Butter Roasted Chicken Breast. I added some green seasoning and Sriracha Butter Sauce.
My Major Challenges I've Seen That Lies Ahead!
Living without alcohol is the biggest! It's hard to tell a Wine Club member you can't have wine. It's even harder to tell an Admissions Advisor they can't have a shot of vodka here or there. No cream in my coffee is also a major obstacle. I'm in the process of finding powdered hazelnut creamer to order and keep at work. But I have to have my cup of Dunkin Donuts coffee (and coffee is allowed). This is the only thing taking off the alcohol edge.
My Unboxing Experience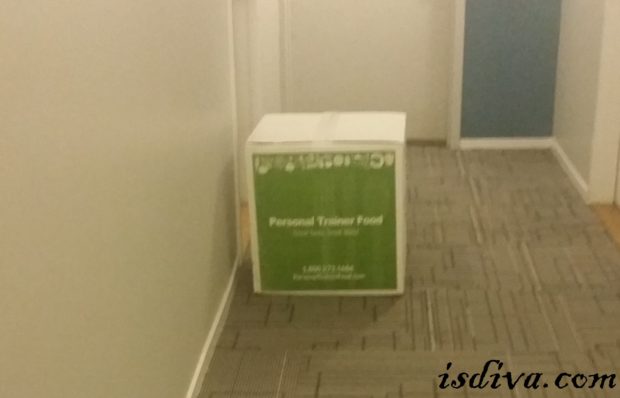 I did sign up for meal delivery notification and slapped "Deliver to my apartment" on the front door of the building, my mailbox, and my door signs. Sometimes they leave deliveries in the main building and I was not trying to haul a big box of food to my building. I arrived about 9 pm that night and was ready to open! What I wasn't ready for was actually storing my food!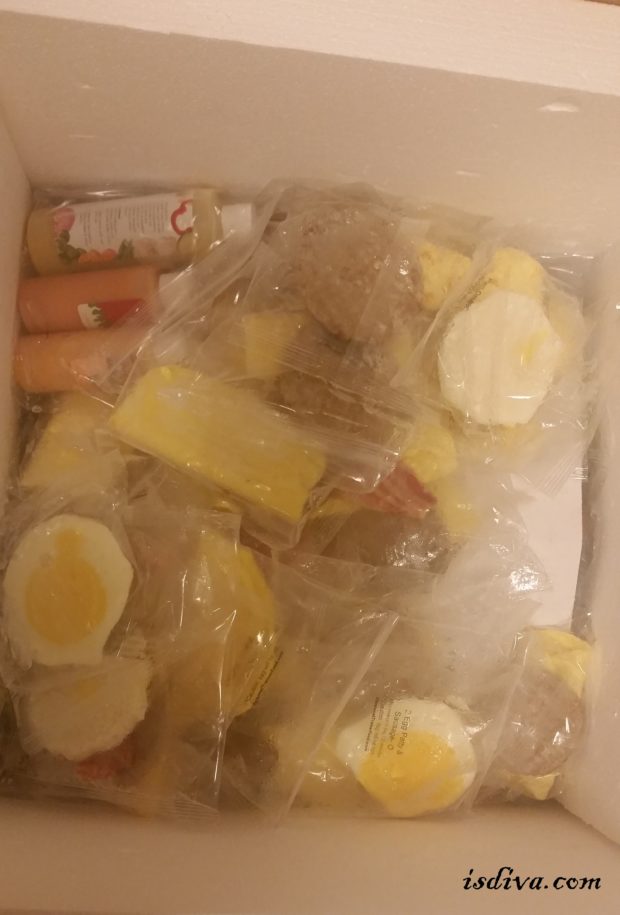 So the insulated shipping box is packed with dry ice. You get a list of your items included, Guidelines and Instructions Manual, Heating Instructions Guide, and the Do's and Don'ts pamphlet, and of course the food! The food was nicely organized in breakfast, veggies, and meat items. The sauces come in a zipped locked bag.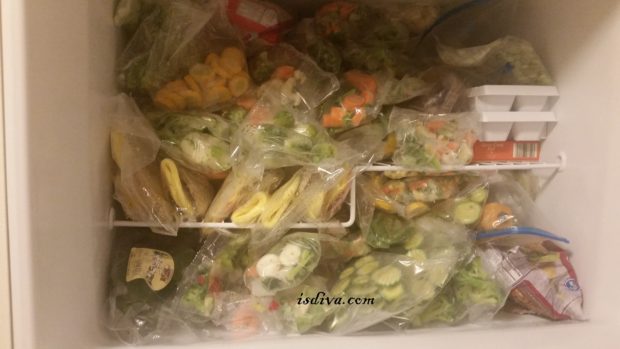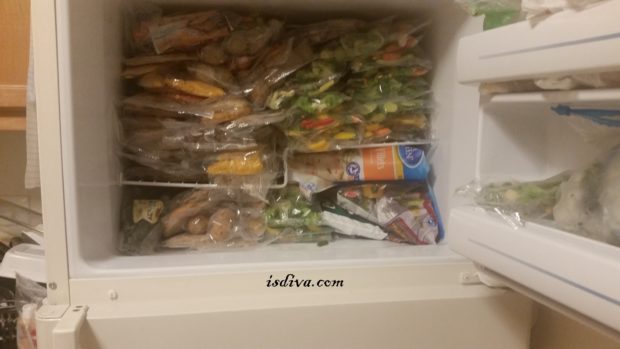 You'll see I had a darn interesting night stacking my food. So although my freezer was relatively empty, stacking was the problem. I'd definitely suggest you get some type of freezer organizer. I've ordered these Storage Basket's right from Amazon so give it a shot yourself! You may be able to find them in your local dollar store.
My Goals with Personal Trainer Food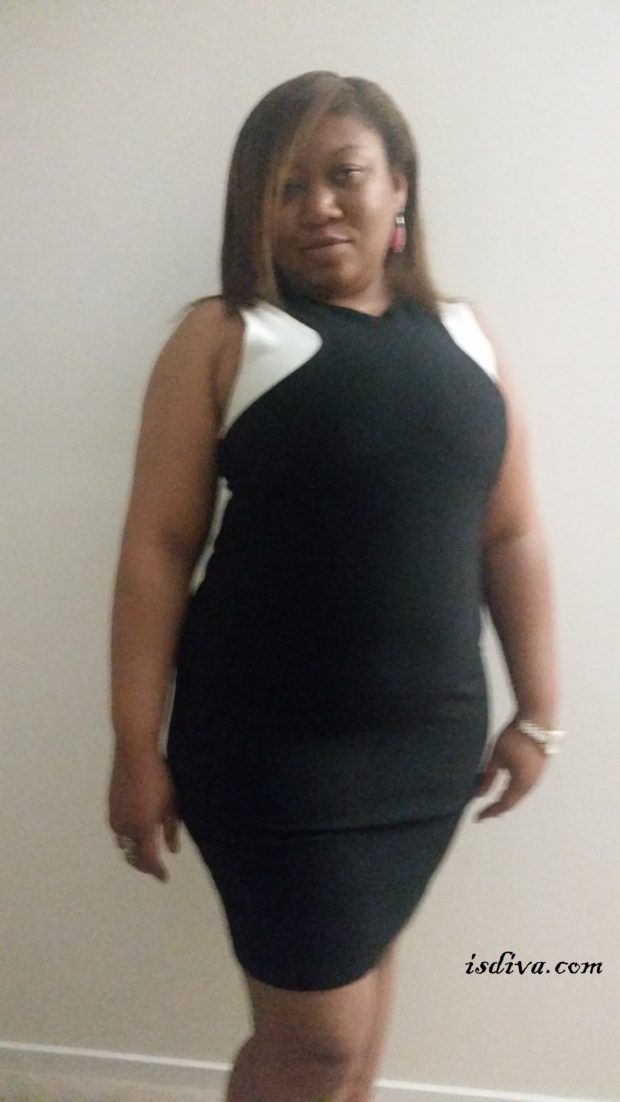 So what are my goals with this program? Considering how I am only required to do 20 minutes of walking daily, I'm shooting for the stars! My plan is to do my walking during my lunchtime. Pending time and how I feel, I may sneak extra in before going to work or if I'm home in the evenings during a decent hour.
I already know I'll be adding additional veggies such as a salad to my lunch and dinner plans.
I'm currently 185 pounds at the beginning of this program and would like to see 10 pounds minimum shaved off! But, a bigger goal is to just fit in some of my clothes while a girdle is not needed!
Pure weight loss isn't all I'm striving for with this program. I'm just tired all the time and know I'm a bit too young for that! By eliminating a lot of processed foods from my diet, I'm looking forward to clearer skin and healthier hair as well. finally, the overall health benefits will be great alone. Having a history of cancer, diabetes, and other cardiovascular issues on both sides of my family mean I need to start taking better care of myself.
So, I'm inviting you to try out with me the Personal Trainer Food challenge! Just 28 days and you will see results as well. Use my code: MOMBLOGGERS to get a $150 savings on any 28-day program. This can only be applied to the 28-day program part and not to the subscription, so be careful on your selection.
Be sure to check me out for the next 3 weeks to see how I'm coming with my goals!
~ Independent, Smart, Diva! Like this post? Please share with your friends!