Disclosure of Material Connection: This is a "sponsored post." The company who sponsored it compensated me via a cash payment, gift, or something else of value to write it. Regardless, I only recommend products or services I use personally and believe will be good for my readers. I am disclosing this in accordance with the Federal Trade Commission's 16 CFR, Part 255: "Guides Concerning the Use of Endorsements and Testimonials in Advertising."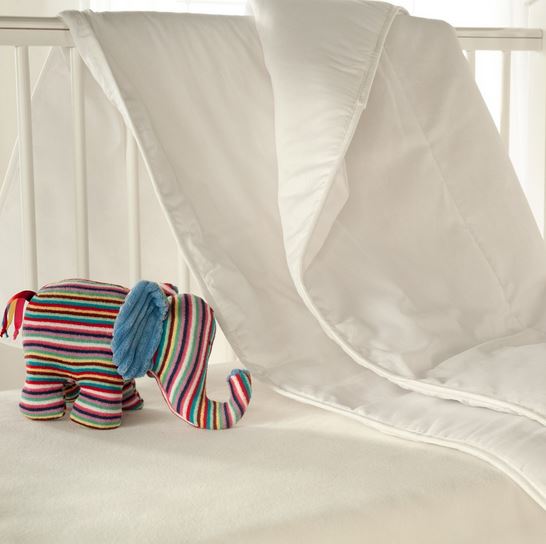 Did you know that your toddler needs around 12 – 14 hours of sleep per day to keep them happy, healthy and ready for more adventures? It's no surprise they need so much sleep when you think of how fast they are growing and that they're always on the go when they're awake. In this blog post, we explain how you can give your toddler the best sleep by using the right duvet.
When Can My Child Start Using A Duvet And Pillow?
First of all you need to make sure that your child is old enough to be using a duvet. Duvets are not recommended for children under the age of 12 months due to the risk of suffocation. Babies under 12 months should not be laid down to sleep with a duvet or pillow.
Over the age of 12 months, it is considered safe for your child use a duvet and pillow to make them sleep more comfortably. At this age, they can roll freely out of harm's way if the pillow or duvet covers their face.
What Tog Rating Is Best?
Finding that your child has kicked off their duvet is a sign that they are getting too hot. It's a good thing that they can regulate their temperature like this, but it might mean that your toddler will wake up because they are feeling cold later.
A better way is to get a duvet of the right temperature or Tog rating so that your child sleeps soundly without feeling too hot or cold at any time. In their article What Duvet Tog is Best for a Toddler Sleepy People.com recommend that a 4 Tog duvet is best. You might think this would be too cold, but as their article points out, children will be a lot warmer under a cool duvet than adults would.
Where Do I Find a Low Tog Cot Bed Duvet?
Not every local store has stock of low tog rated cot bed duvets, so your best chance of easily finding one is to shop online. Again, looking at the Sleepy People.com website, you'll find a few that would be perfect for a toddler's cot bed, such as this Silentnight Anti-Allergy 4 Tog Cot Bed Duvet.
What about the Pillow?
Again, the best option is to choose a pillow that will help your toddler to keep cool. Cotton or Egyptian cotton covered pillows will help with this. The smooth, natural fibers in cotton have a cool feel that will help your child feel comfortable.
Don't forget to try and get your toddler into a routine of taking an afternoon nap. All stay at home mom's will understand that this time is so important for you to be able to get things done or have a little time to yourself. Having the right Tog Duvet will help your little ones fall fast asleep.
~ Independent, Smart, Diva! Like this post? Please share with your friends!